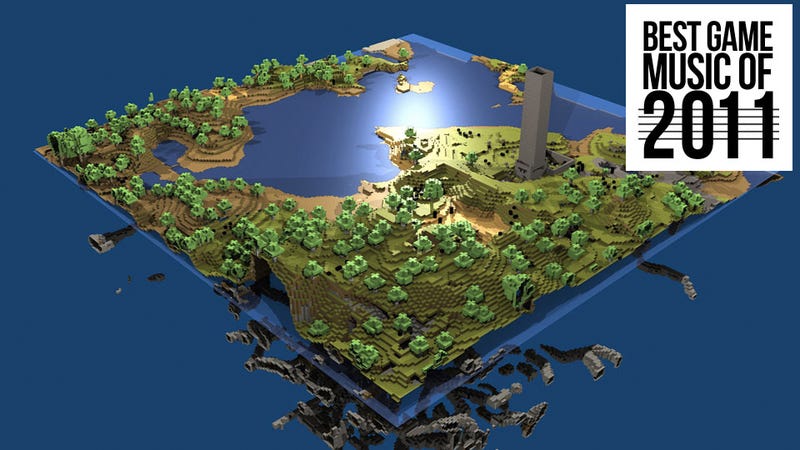 Despite the fact that many folks have been playing Minecraft since the fall of 2010, I'm counting it as a 2011 game. After all, 2011 was the year that it saw a full retail release, and it was also the year that I finally sat down and really played it.
It was also the year I fell in love with its gorgeous soundtrack.
It's something of an all-consuming game, Minecraft. More than most games I play, it's one that I fire up with the intention of a quick session and before I know it, it's three in the morning and I'm blearily building stairs up to my glass fortress of solitude, wondering where the last four hours went. In fact, before writing this I booted the game up on my laptop and wound up playing for a half-hour. I have a deadline here, Minecraft!
Minecraft doesn't use its soundtrack in a traditional manner, but then, it's not really a traditional game. Composed by a German electronic musician named Daniel Rosenfeld who goes by the handle "C418," it is a dynamically triggered series of motifs that signal the rise of the sun, or the fall of night, the proximity of dangerous monsters, or simply the game's desire to... play you some music.
Because of the ritualistic, routine-inspiring nature of Minecraft, lots of people I know listen to other things while playing it. They treat crafting-time as a time to get caught up on podcasts, or listen to new music. Not me. I listen to the soundtrack and only the soundtrack, often with headphones. The sound effects themselves are a sort of music—as I explained back in my column about "The Rhythm of Play", the The dig-dig-dig-dicrunch! dig-dig-dig-dicrunch! of Minecraft mining has a hypnotic, musical rhythm to it.