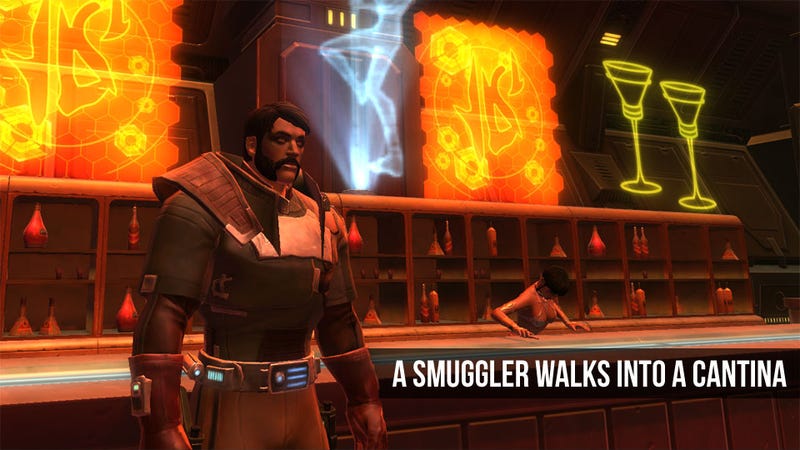 While the rest of Kotaku dedicated themselves to squeezing every ounce of gaming out of the world we live in last week, I spent the latter half on vacation, and by "on vacation" I mean playing Star Wars: The Old Republic.
I have a knack for scheduling my holiday time to coincide with the launch of major massively multiplayer online games. When LEGO Universe came out I was not only on vacation, I was deathly ill as well, which made for a wonderful first week experience. This time around I only spent my first three days in this new Star Wars galaxy in the grips of a horrific, gut-twisting stomach bug.
So I might have been feeling a little mean when I created my first character. Fahey, a Smuggler by trade, is a large, beefy man with a handlebar moustache. He's Sons of Anarchy meets Son of Anakin, only several thousand years in the past when everything was exactly the same, just slightly different.
What sort of trouble did I smuggle out of Star Wars: The Old Republic this week?
Star Wars: The Old Republic isn't quite built like your average MMO game. Instead of generic characters playing through generic adventures, each of the game's eight classes has their own specific storyline to follow. For instance, my Smuggler begins the game by having his prized ship stolen by a less scrupulous Smuggler than he, launching him on a galaxy-spanning journey of self-discovery and revenge.
It also means I can't really go too deep into the experience without completely spoiling the story for you. Yes, BioWare has introduced the spoiler into the MMO market. Thanks, guys.
What I can tell you is that by implementing a strict set of rules for dealing with decisive situation, I quickly developed Fahey into his own man, despite having the same companions and story as every other Smuggler in the game.