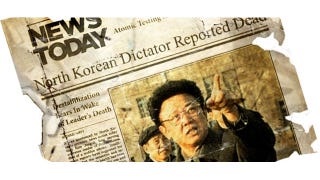 Kim Jong-il, who has ruled the Communist state of North Korea since 1994, has passed away. Which means 2011 shooter Homefront was only two weeks off making one of the most timely (if accidental) fictional statements in video game history.
In Homefront, a game which takes the death of Kim as the catalyst for a series of North Korean actions which culminate in a Communist conquest of Northern Asia and subsequent occupation of much of the United States, his demise is listed as having taken place in 2012.
With North Korean authorities reporting that he died two days ago, on December 17, 2011, that's pretty damn close. Two more weeks and they'd have been right on the money.
Developed by Kaos Studios, Homefront's overall story was actually penned by John Milius, who not only co-wrote Apocalypse Now but, more poignantly, both wrote and directed Red Dawn, another tale of Communists invading the United States.