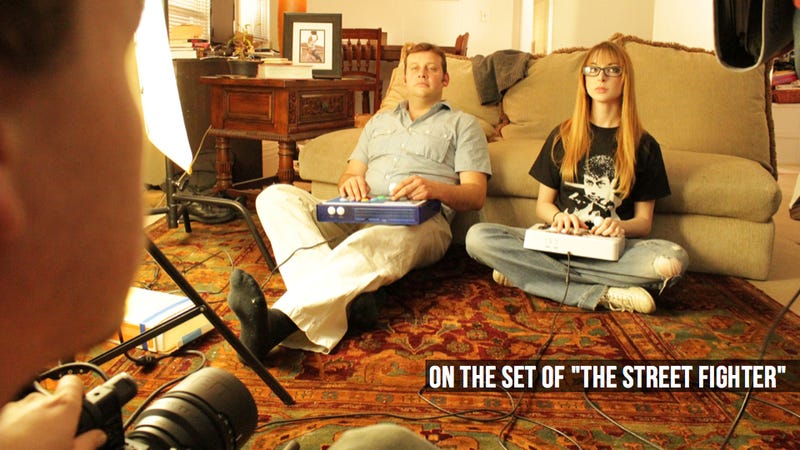 I recently was given a part in The Game Station's 6-episode miniseries called "The Street Fighter," and I didn't even have to blackmail anyone for a role this time! Small victories.
The series revolves around a dad who loses his job and as a result, decides to become a professional Street Fighter IV player in order to pay for his son's school tuition. I play Camile, an awkward nerdy girl with glasses, which was a real theatrical stretch for me, because I do not wear glasses in real life.
One of my co-stars on the show was a 12-year-old kid named Gus. Gus and I goofed around off-screen: I'd often slap scripts out of his hand just to make him cranky and he'd ask me to mime shooting him with a sniper rifle so he could show me his best fake deaths. One day, while filming a scene where the two of us had to pretend to play Call of Duty, this conversation took place:
Lisa: Be careful not to mash the buttons like that.
Gus: (Gives Lisa the side eye) Why?
Lisa: Because people watching will know it's fake. I actually wrote an article on that exact concept. About how actors look like idiots playing video games on TV.
Gus: So?
Lisa: Even Cliff Bleszinski liked it! He told me! So we have to do this right or everyone on the Internet will call me a 'hypocritical whore!' …Which they usually do anyway. And turn your controller on, too.
Gus: I hate you.
Gus, of course, probably didn't hate me because of my obsessive need for video game believability; he probably hated me because my nickname for him was "Tiny Thor."
So, there I was: The girl who wrote extensively about how actors look like idiots playing video games on television for Kotaku in April 2010 suddenly found herself in a web show about playing video games. Piece of cake. Don't sporadically hit buttons, don't tilt the controller like a Wii steering wheel, and don't make any facial expressions that resemble Mick Jagger in the "Dancing In The Street" music video.