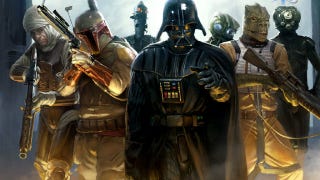 Tonight is the end of Star Wars Galaxies, once a crown jewel of Sony Online Entertainment's MMO portfolio. There is now less than an hour before the total shutdown of the eight-year-old MMO.
Right now, courtesy of Giant Bomb's live stream broadcast, we're seeing enormous deciduous trees growing in the Tatooine desert, and X-Wing fighters penetrating the Sarlacc Pit in a very suggestive way.
The overall purpose of the game's final night is to settle the question of who is in charge of the galaxy, through a gigantic PvP war. Control of each territory in the game is weighted; whichever faction controls the most territory will, ultimately, be declared the final winner of Star Wars Galaxies.