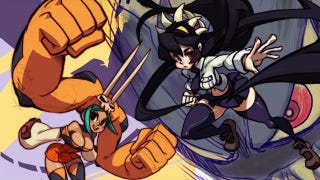 Some video games have exploding heads. That evokes criticism. Other games have giant breasts and panty shots. Likewise, people get upset. Skullgirls developer Reverge Labs is here to pass out the chill pills.
Skullgirls is an all girl-on-girl 2D fighting game. Skullgirls roster features characters like Valentine, a nurse ninja; the demon-haired Filia; a girl who wears hulking arms for a hat, Cerebella; and zombie cutie Squigly.
"Our characters are strong, powerful women who happen to be attractive," Reverge lead designer Peter Bartholow told Eurogamer. "None of the characters use their sexuality in any aggressive way. It's just a thing they happen to be."
As previously posted, Skullgirls is the work of Reverge Labs and the spawn of artist Alex Ahad and programmer Mike Zaimont. Zaimont, or Mike Z as he's known in fighting game circles, is a tournament competitor, well versed in the 2D fighting styles of BlazBlue, Guilty Gear, and Marvel Vs. Capcom 2.