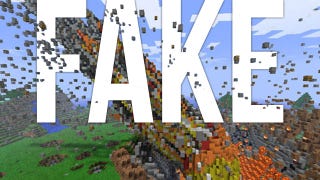 Top Best Adult Entertainment. It's not a name that springs to mind alongside the likes of Nintendo, Blizzard, Valve or BioWare, and there's a reason for that. This is one of the worst developers in the world.
Not because they put out bad games, though that certainly helps. It's because of the lies they dress their bad games up in.
A ripped-off reader pointed us towards Top Best's catalogue earlier today, and it makes for grim reading. Well, hilarious reading initially, until you remember people are being tricked into paying money for this company's games.
Selling its wares on Apple's App Store, Top Best offers a number of titles, among them Craft - Build Terrain, Zanda - Linked Swords and MoonCRAFT Mine. Zanda is such a shameless Zelda rip-off it's a wonder Nintendo's crack para-lawyers haven't already put a stop to it, but it's the two Craft games that are the real problem.
Both sell themselves as Minecraft clones. Again, that's OK! As we've shown you, some of those can actually be quite good if you give them the chance. Top Best's games aren't even Minecraft clones, though. They're something worse.