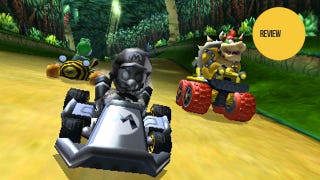 There's a spot on the couch where Mario Kart 7 sits, a well-worn seat where the pillows and cushions have been arranged just so. Over the years, a multitude of previous Mario Kart games have all occupied that spot, and so Mario Kart 7 knows just how to hold itself, just how to sit, just how to remain comfortable. This game feels so confidently Mario Kart—every aspect of its design and presentation is just in there.
That's a good thing, as far as I'm concerned. Nintendo has gotten a reputation over the years for iterating on the same three or four games. It's understandable that long-time Nintendo fans might start to desire new, fresh characters and new types of games after so many years of the same experiences. But on the flip side lies the remarkable confidence with which Nintendo builds on those core experiences—this fall's Super Mario 3D Land still involves jumping on goombas and shooting fireballs, but it's also one of the most purely joyful games I've played this year. The Legend of Zelda: Skyward Sword is still a Zelda game, but it's beautiful, challenging, and deep.
And so the 3DS's Mario Kart 7 is a Mario Kart game to the core, but it remains a chaotic, breakneck good time. Furthermore, the small improvements made to the formula serve to set it apart from its predecessors and make it arguably the most fully-formed Mario Kart game yet.
Mario Kart 7 has all the usual features of a Mario Kart game. A "kart" in the game is a hoppy, quick-turning go-kart, which players can jump, crash, and flip along the track with reckless abandon. It's still possible to hop into a turn and, by grinding through a power-slide, get a speed-boost. Players choose a kart racer from among eight Nintendo mascots (e.g. Mario, Luigi, Yoshi, Kong, Toad) and then go up against seven other players (or computer-controlled opponents) in a pell-mell sprint to make it across the finish line in first place. It features 16 brand-new race tracks and 16 lightly re-imagined "classic" maps, for a total of 32 tracks. (Here's a video I made of the 16 new tracks.) The tracks in the game are fun and well-designed. A few of the new ones—DK Jungle, Mario Circuit, Music Park, Rock Rock Mountain, as well as the amazing new Rainbow Road—have become some of my favorite Kart maps.