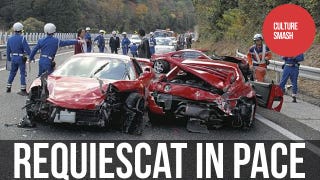 One Sunday about a month ago, I was driving my family to Himeji. It was a drizzly early morning on the Chugoku Expressway, and I just cleared Kobe. To my right, a trio of Lancia Delta Integrales came whizzing by.
Within moments, an Aston Martin zoomed by, being tailed by an Alfa Romeo Alfasud, splashing through the rain.
While younger Japanese are less interested in cars, older Japanese still love them—especially foreign cars. Being a gearhead is an "ossan" ("old dude") pursuit, largely because of all the money involved. It wasn't always like that here, with young men, now old, spending all their money and free time on their cars.