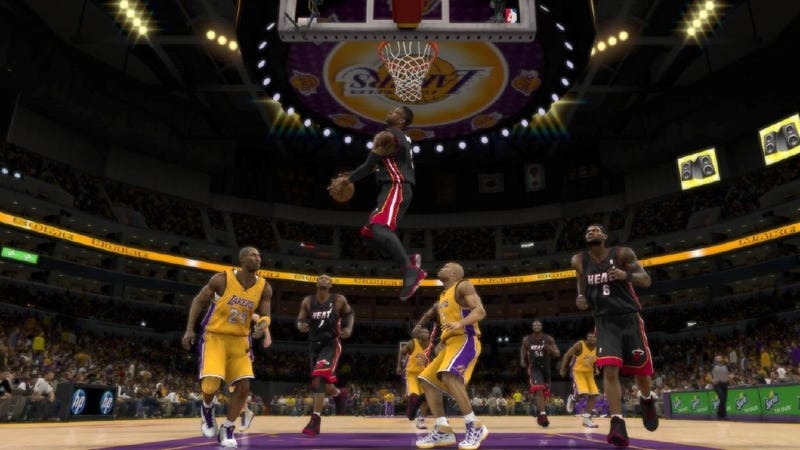 In Los Angeles six months ago, Erick Boenisch gave me my first look at NBA 2K12. I think I watched about a quarter of play in it, with no additional commentary or guidance. He just wanted me to see that it was a good-looking game, and indeed it was. My first question had nothing to do with that, though. It was about the NBA lockout—which at that time hadn't even begun.
"Yeah, we knew you were going to ask about that," Boenisch, the game's producer, said with a half-smile.
This week, the questions finally stopped and the cloud over his game, 2K Sports' pride and joy, finally lifted. A handshake agreement between the league and its players is in the process of being formalized, with both sides expecting to begin play on Christmas. Boenisch is no longer an unofficial spokesman for something out of his control. More importantly, his livelihood is no longer in the same line of fire.
Video game makers weren't lumped in with the archetypal beer vendors, parking lot attendants and other lunchpail types looking at lost paychecks as millionaires in two leagues argued through the spring, summer and fall. But a seat usher also won't find himself in the role of representing a league in the absence of scheduled games, as NBA 2K12 was for the past month.
Boenisch and his mates at Visual Concepts, the 2K Sports in-house studio that makes the game, were literally 3,000 miles from the negotiating room, but every time I or someone else asked about the lockout, he had to put on a professional smile and say something diplomatic about both the NBA and its players' association as the two sides lobbed accusations at each other.
I can't imagine any league licensee, for any product, was placed in a tighter spot than 2K Sports this year. True, this summer, EA Sports was caught in the middle of the NFL's nasty spat with its players, but that was resolved before any regular-season games were canceled. The NFL also adjusted the terms of its exclusive license with EA, recognizing that—as EA's Peter Moore told me during the same L.A. visit—they're not making a can of beer with the league logo on it.