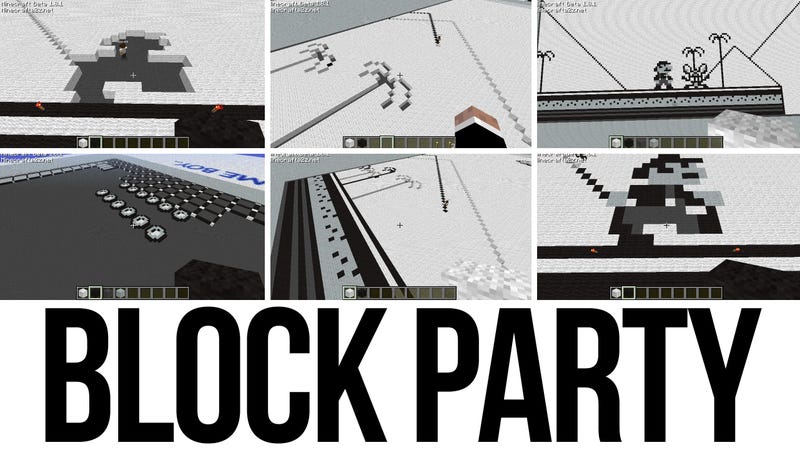 It's just two minutes and twenty-two seconds of black and white video. In it we see a play-through of classic 80s Game Boy title Super Mario Land. Pretty bland stuff, until you hear how it was created.
The YouTube Minecraft Super Mario Land in Stop Motion video is the culmination of more than 500 hours of work by three dedicated Minecraft gamers using more than 18 million blocks of in-game wool to meticulously recreate the 800 still images that make the video.
Each image is a masterpiece in block placement, dropping dyed wool blocks in the game's creative mode within the frame of a massive Game Boy created in the virtual world. The Game Boy's screen is 160 blocks across and 144 blocks tall. That means it takes 23,040 blocks to fill the screen, each representing a single pixel in the game.
James Wright, a 21-year-old British carpenter who lives in England, and Joe Ciappa, an unemployed 29-year-old living in the U.S., me through video games, the two told Kotaku in a recent instant message interview.
"We started playing together when GTA IV came out," Wright wrote. "We started talking on Xbox and began gaming."
The two quickly became friends over matches of Grand Theft Auto, Rainbow 6, Call of Duty, Battlefield and then Minecraft. Now it's only Minecraft.
"We picked up Minecraft about a year ago and started a personal server," Wright said. "About a week later I suggested to Joe we put together a small website just with some Minecraft related videos and content."
The original plan was to make their site, Minecrafta2z.net, a place for hosting video tutorials for the game. But the server they hosted soon took over most of their free time. Then they came up with the idea of making stop-motion videos using the game. Initially they wanted to see if it could be done. They started with a Pac-Man creation. Then they did Bomberman and Space Invaders.