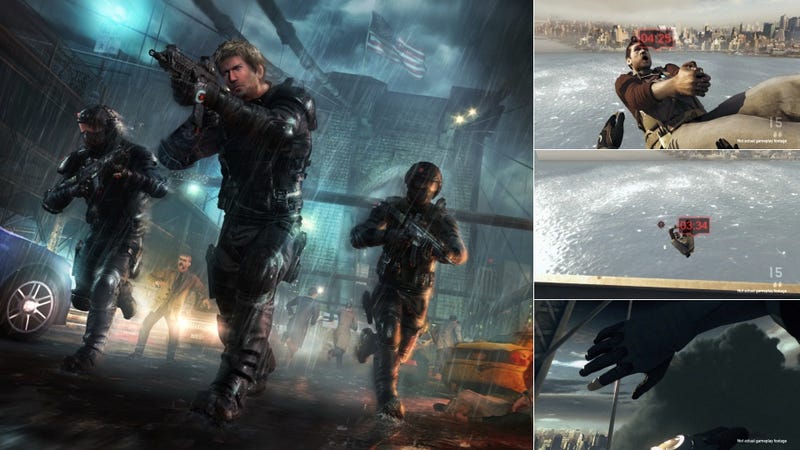 How far would you go to save a life? To save lives? Would you sacrifice an innocent civilian to save a hundred more? Ubisoft's recently unveiled tactical shooter Rainbow 6: Patriots aims to tackle those tough (or at least, dramatic) questions. Last week, I headed down to Ubisoft's headquarters in San Francisco to get an early look at the game. While it's not yet in full production—it's slated for release in 2013—what I saw looked like a strong iteration on Rainbow Six: Vegas's tactical gameplay wrapped in a single-player campaign that just may present a new perpective on video game terrorism.
Shortly after the press arrived at Ubisoft HQ, we were shown a slideshow laying out the general vision for Rainbow 6: Patriots. The theme for the new game will be the "New Terrorism," the threat that comes from within. In the single-player campaign, a group called The True Patriots, led by a man named Jonah Treadway, have set into motion a plan to cause unspecified havoc in America, targeting New York City in particular. Team Rainbow is being led by a man named Wolfe, a man who "knows that counter-terrorism fails. He knows that he has to eliminate the True Patriots, and he's willing to take ethical shortcuts to get ahead of them."
Yes, okay, this does not sound particularly gripping or original. In fact, it sounds something like Ubisoft's own 2007 game Splinter Cell: Double Agent, or maybe a season of FOX's long-running (but now-cancelled) TV show "24." The True Patriots are upset about the way that the elite of the country have taken advantage of the poor (which is a timely hot-button issue) but also that some are former military servicepeople who returned home from fighting abroad to discover that their country had abandoned them. That second reason is less interesting to me, only insofar as it was the same motivation as Ed Harris' band of terrorists in The Rock, and feels a bit like an excuse to have lots of highly trained enemies to fight.