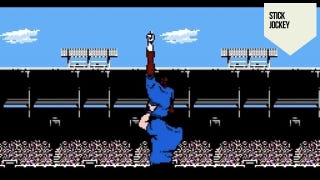 With respect and admiration for, if not apologies to, the late Ernie Harwell, here's something adapted from his famous Induction Day speech at the National Baseball Hall of Fame, Aug. 2, 1981, which itself was adapted from this 1955 essay. Stick Jockey published this last year on Thanksgiving weekend. I've updated it for this year, and I'd like for it to become a tradition.
Sports video games are the very first video game, a glowing ball bouncing back across an oscilloscope in a atomic research laboratory. Tennis for Two. They're there with the first coin-operated video games, at a bar in Sunnyvale, Calif., in a crude machine stuffed with so many quarters that it broke down. Pong. That's a sports game.
They are the original fighters and the original racers. Turbo and Punch-Out!!, Pole Position and Ring King, Ready 2 Rumble, UFC Undisputed and Fight Night. Sports video games were there at the beginning of console multiplayer gaming, on a dialup and a Dreamcast.
There's a music teacher in Hammond, La., who never played a lick of baseball in his life, but bought his wife a new refrigerator with the million-dollar prize for pitching a perfect game in MLB 2K11. That's sports games. So is the Stanford alum in Washington, D.C. who always kicks the Arizona schools out of the Pac-12 when he sets up his NCAA Football dynasty. Sports games extend the passion of rivalries and nourish the expression of a competitive spirit that, for millions, began a long starvation on their last day in shoulderpads or stirruped hose.