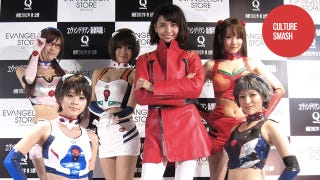 Harajuku is famous for its fashion. Stylish young Japanese women flock to its boutiques, snapping up the latest trendy threads. But now, a new crowd is coming: The anime nerds.
Today, a Neon Genesis Evangelion themed shop, dubbed Evangelion Store Tokyo-01, opened up in Harajuku.
Neon Genesis Evangelion is an iconic Japanese manga and anime that launched in the mid-1990s.
On hand for a Nov. 21 event was actress and cosplay dork Natsuki Kato. Dressed as the character Misato, Kato said, "When you say 'otaku hotspots', the standard places are Nakano and Akihabara, right? I think this place will go on to be the third otaku hotspot."