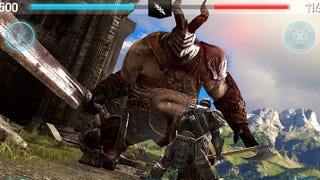 Infinity Blade II, the big sequel to one of the most acclaimed games on the iPhone and iPad will cost $6.99 when it is released on December 1, according to the game's creators.
Games for iPhone and iPad usually go for a dollar or two, but Epic Games and Chair, the developers of the game, are wagering that Infinity Blade II will be worth the relatively high cost. It's a safe wager as the first Infinity Blade proved to be a critical and commercial hit. Both games run on Epic's eye-popping Unreal graphics tech. The games involve the adventures of a lineage of medieval warriors who use magic and swords to fight massive enemies in an infinite loop, gaining more power each time the player takes one of them through the game's cycle of foes.
The new game presents a new adventure with more enemies, more character customization options, more story and support for cloud saving on devices running iOS5. It looks spectacular.