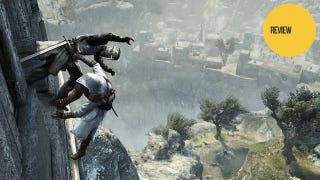 What do you want out of a video game? What should you hold against a video game, and what should you let slide?
One more question: Do your answers change if we're talking about a sequel?
Assassin's Creed: Revelations, the fourth major Assassin's Creed game released since November, 2007 arrived this month as perhaps the most unwanted big-game sequel since 2010's BioShock 2.
Like BioShock 2 it secretes the smell of a corporate conception. It appears from afar like the product of an executive's need for a sequel rather than a desire of the series' creators (... and what do you know? The top person behind the first BioShock and the first Assassin's Creed was not involved in these two sequels).
Like BioShock 2, Assassin's Creed: Revelations has emerged this month suffering the peculiar penalties of any favorite dish served again too soon.
And like BioShock 2, Assassin's Creed: Revelations may not be the most ingenious and special game in its series. It just might be the best-playing one.
What you think of Revelations will depend on what you look for in a sequel, what you might hold against sequels and, ultimately, if you look beyond that, on how much you value the ways a game plays.
Assassin's Creed: Revelations is a bifurcated game, half multiplayer, half campaign. Its multiplayer is an expansion of the format introduced in last year's Assassin's Creed: Brotherhood. As before, it is built mostly around the idea of players hunting for each other on maps that are crowded with computer-controlled characters. Those characters can look like the players' array of characters, creating levels full of clones, only one of each controlled by a real, hunt-able person. That multiplayer is expanded in Revelations and an indisputable improvement over last year's effort.
Assassin's Creed: Revelations may not be the most ingenious and special game in its series. It just might be the best-playing one.
The game's campaign is a more ambiguous success. It is sold, through the game's subtitle, as the "answers" chapter of the Assassin's Creed saga. It is the final part of a belatedly-defined trilogy of annual AC games that primarily let the gamer play as late-15th and early 16th-century Italian assassin Ezio Auditore. The so-called trilogy didn't start with the first Assassin's Creed. No, this trilogy started late, which is part of what aroused suspicions that Revelations is more cash-in than instant classic. The new game follows 2009's Assassin's Creed II and last year's Brotherhood. It is, surprisingly, no lightweight game. It is equal to Brotherhood in the generous density of its content and is the sum of the many gameplay ideas introduced in those games, plus a bunch of new ones.
We're promised that, with this new game, we'll find out more about the centuries-spanning storyline of the series. What might the revelations be? Perhaps we'll learn more about the long war between the Assassins and the Templars. Perhaps we'll find out why the crazy events from Brotherhood's conclusion happened and more. The opportunity for many revelations is there. We play as Ezio, primarily, on a mission in 16th-century Constantinople, with playable flashback sequences to Assassin's Creed 1's main playable character Altair and with a third strand of playable adventures as 2012's Desmond Miles, the assassin-in-training. who has been reliving the memories of his ancestors Altair and Ezio in all of the games in the series.
In terms of delivering answers Assassin's Creed: Revelations, falters. Soak yourself into the game's campaign for 19 hours, complete 80% of it and you still won't have a satisfying explanation for the events at the end of Brotherhood. You still won't know Ezio's fate; that's delivered in an animated movie that the game's publisher just released. You will, however, learn a lot more about Desmond's life story and you will probably care much more about Altair and the people close to him, thanks to marvelously succinct storytelling in his handful of moments in the game.
But the whole thing is shown up by a book.
If you really want Assassin's Creed revelations, what you need is the game publisher's recently-released Assassin's Creed Encyclopedia.
If you really want Assassin's Creed revelations, what you need is the game publisher's recently-released Assassin's Creed Encyclopedia. It fills in blanks and answers questions. It is the better service to fans who have accumulated piles of whys, hows, whens and whos since 2007. In that regard, it outshines—and out-reveals—the game.
Let's return to the idea of what a sequel is good for and what can be bad about a sequel. The knock on Revelations is that, as a game, it has arrived too soon and in too similar a fashion to the two acclaimed Assassin's Creeds of 2009 and 2010. To those charges, it is technically guilty of being released in 2011 and embellishing upon, rather than replacing, the core game design of its two predecessors.
The things that players did as Ezio in virtual Florence, Venice and Rome over the last two years, they may now do in virtual Constantinople. They may run through crowded streets, climb buildings, and assassinate people. They may generally mix their time between being the hunter and the hunted, from playing as an exposed perpetrator of violence to playing as a man blending in with the crowd. They have the choice to shoot from afar or stick a knife in the gut of a guard with the public subtelty-amid-crowds that a modern person would use to check their fly.
There has not been a game that has played like Assassin's Creed: Revelations in a year, which is more than can be said for some of its contemporary competition. There hasn't been a game that looks like it in a year either, as no other game creators are bothering to make rich, urban period pieces that time-machine their players back several hundred years.
A game might not deserve the criticism that it was made too soon if it's conceivable that it would be better enjoyed, unchanged a year later. That could be the case with Revelations which does so much right. In a vacuum, or with distance from Brotherhood, it might be viewed as a more glorious achievement. Of course, Revelations is no November 2012 game. Assassin's Creed III is well into development and is promised to star a new character. It probably is coming in November 2012. So Revelations is but a surprise in what might otherwise have been an off-year. And what a surprise.