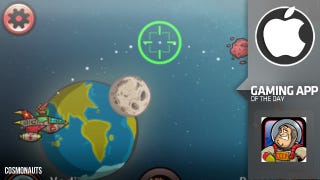 There was this old hippie at a newspaper I once worked for, a guy who took a great interest in any New York Times obituary of a prominent Russian. He was your basic-as-bread conspiracy theorist, convinced the Soviets put a human—well, a human body, anyway—on the dark side of the moon. "They couldn't accept not trying," he said, like a lunar landing was a football game. He would have loved Cosmonauts.
In this iOS physics game, Mother Russia won the space race, making them the first to encounter extraterrestrial life. Hostile extraterrestrial life. It's now up to the good ol' CCC of P to save Earth, and that's where you come in. In a linear combat space, you're given a gunship, some modifiable weaponry, and a target to hit. Your shot flies along a parabola. The basic objective is to destroy your target in as few shots as possible.
Sounds familiar, and indeed a lot of the iconography in Cosmonauts and its menu layout smells like physics games such as Siege Hero or The Marbians or that game with the birds. The difference here is your foe returns fire. So while you have theoretically unlimited shots, you can't get too cute or else you'll join Sputnik in the hall of space debris.