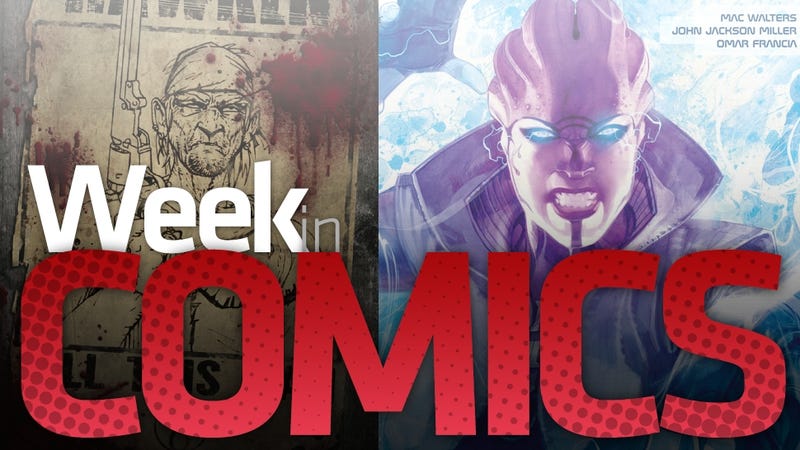 Man, it's late. You should have gone to the comic shop by now. It is Wednesday, you know. That's when new comics come out.
And I have recommendations about which ones you should buy. Sorry they're late, but, hey, the shop will be open tomorrow, too. And you could always download at least some of this stuff legally...
Comics You Should Consider Buying (from comics shops)
The Adventures of Hergé This is a graphic novel about the creator of Tintin, written and drawn in the style of a Tintin album. Official summary: "The Adventures of Hergé is a biographical comic about the world-renowned comics artist Georges Prosper Remi, better known by his pen name, Hergé. Meticulously researched, with references to many of the Tintin albums and complete with a bibliography and mini-bios for each of the main 'characters,' the biography is appropriately drawn in Hergé's iconic clear line style as an homage to the Tintin adventures that have commanded the attention of readers across the world and of many generations. Seven-year-old Hergé first discovered his love of drawing in 1914 when his mother gave him some crayons to stay out of trouble. He continued drawing in school when he fatefully met the editor of XXe Siècle magazine, where Tintin first appeared. His popularity skyrocketed from the 1930s through post-WWII. Hergé was perceived by some to have aided the Nazi government in Belgium by continuing to publish Tintin in a government-sanctioned magazine, and he was briefly imprisoned in the aftermath of the war and narrowly escaped execution. Also covered are his marriage troubles in the 1950s and subsequent affair with Fanny Vlamynck, who went on to become his lifelong partner; his late career in the 1960s, as his interest in Tintin waned and he occasionally 'disappeared' for weeks at a time as he contemplated giving up his career to become a fine-arts painter; and a recounting of a humorous encounter with Andy Warhol."
Avengers #19 I recently started reading Brian Michael Bendis' Avengers comics, and I like what I've seen. He's great on a team book, flexing his mastery of dialogue to make Marvel's most famous heroes seem like a group of real people, at least in terms of how they talk. In this issue, he debuts a new Avengers line-up, so if you're interested in how Marvel's big super-hero team is doing, this is a good jumping-on point.
DC Comics Presents: Superman: The Kents #1 One of comics' most reliably good writers, John Ostrander, teamed with one of comics' best illustrator of Westerns, Tim Truman, teamed up in the '90s to tell a tale of the Wild West lives of the ancestors of Superman's adopted father, Jonathan Kent. This collects the first four issues, presented in one volume. Two more reprints will follow.
Hawken #1 Tim Truman is good at Westerns. (See above. ) This is a new one, co-written with his son and drawn by him. I hear it's quite good. Official summary: "Tim Truman returns to the Weird West! The industry legend teams with his son, writer Ben Truman, for a violent new tale of the supernatural! In the land of the lawless rode the soulless! Scout, hunter, raider, killer-for-hire: Kitchell Hawken has been many things-most of them bad. Scalped, tortured, and left for dead by the mysterious order called the Ring, Hawken returns, seeking vengeance...but surrounded by the ghosts of every person he's ever killed! Are the phantoms real, or illusions from Hawken's blood-soaked past?" (Read a preview here.)