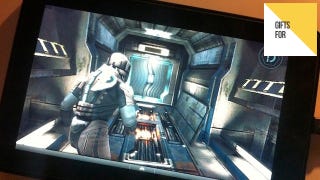 If the person you are buying a gift for already has a Kindle Fire, they really don't need a gift from you. They've got the hot new thing this Christmas. Or maybe the richer person in your family has vowed to get them the Fire, so you're just going to be the person getting them the inferior gift. What to do...
Perhaps they are the kind of person who likes video games. If they are, you can make their holidays happier with a few select gift purchases.
---
Money is a boring gift, but money attached to directions is an excellent one. Make your beloved Fire owner's life easier by recommending some really good video games for the thing. That's kind of weird, because their Kindle is supposed to be for reading. Whatever.
Cheapies like Cut the Rope and Angry Birds are good. Tell them to check for Panda Poet, a multiplayer riff on Boggle or Scrabble that they will think you're so smart for recommending, because they will never have heard of it. It's a Kindle favorite but may not be on the Fire yet.
($25-$500)
---
This one is crazy. We're talking about a science fiction horror video game that looks like it should be running on a PlayStation and already was amazing when it ran on the iPad last year. Now you can run around shooting limbs off alien monsters on the Kindle Fire, which may not be what the Kindle Fire was made for, except, the Kindle Fire was made for the people who have it to brag about to the people who don't, and there's no better "My Kindle can even do this!" thing you could tell your gift recipient to buy than this. (Watch a video of the game in action.)