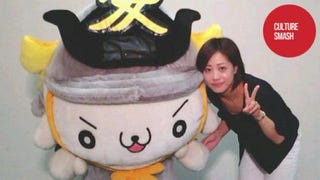 They pop up seemingly everywhere in Japan. They're called "yuru kyara" in Japanese and refer to the local mascots dreamt up to promote cities, towns, and rural villages across the country. Inside those mascots, there are people. And more and more, they're women.
Japanese morning show Toku Dane! took a look at the world of "yuru kyara", noting the mascot boom that's been sweeping Japan.
"Yuru kyara are a cheap and easy way to drum up attention and do PR," Matt Alt, author of Hello! Please, told Kotaku. Some mascots, such as Hikone Castle's Hikonyan, have even become popular across the country. One mascot, however, recently came under fire for resembling Pikachu, resulting in the character being binned.