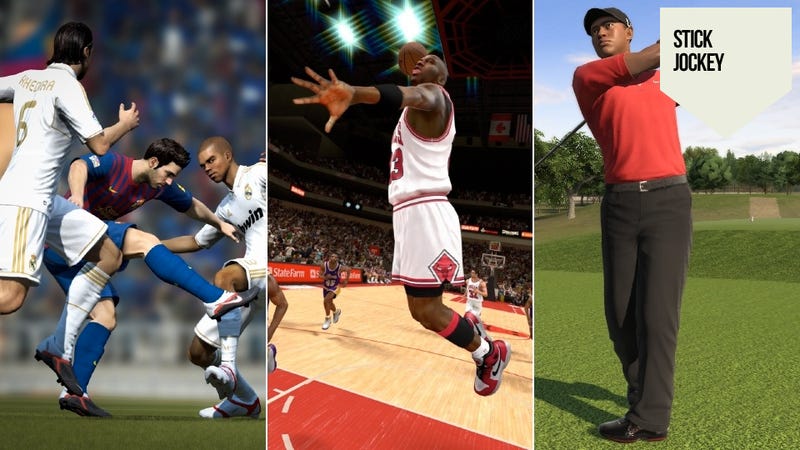 Rarely considered for overall video-game-of-the-year honors, the uncommon diversity of sports video games support a class of awards unique to the genre. These are Kotaku's Stick Jockey Sports Video Games of the Year.
This year we'll recognize achievements in seven categories. Some categories from last year were not awarded this year, for lack of distinguishable candidates. While a game's technical aspects and ability to execute were considered, more subjective qualities such as innovation, impact, and the size of the gaming population it served also came into play in judging a game's worthiness.
These awards are conferred by me, in consultation with Luke Plunkett. Here are the best sports games of 2011.
Best Presentation: NBA 2K12
(Visual Concepts and 2K Sports)
Nothing came close to Visual Concept's broadcast-authentic presentation, in presenting both the current NBA and imagined matchups of years past. The introductions to standard one-off games are a near mimicry of, and welcome surrogate for, actual televised basketball, which has gone dark in the league's ongoing lockout. The pregame, postgame and halftime packages, built by a staff that counts TV sports production veterans among its numbers, have no equal in simulation sports gaming. The commentary of Kevin Harlan, Clark Kellogg and new addition Steve Kerr is informed, deep, and in the season mode, rarely repetitive. In "NBA's Greatest," Visual Concepts went the extra mile to supply period broadcast graphics, and visual and sound filters, to emulate footage shot in the 1960s, 70s, 80s and 90s, helping make it one of the most enjoyable new game modes developed in this console generation.