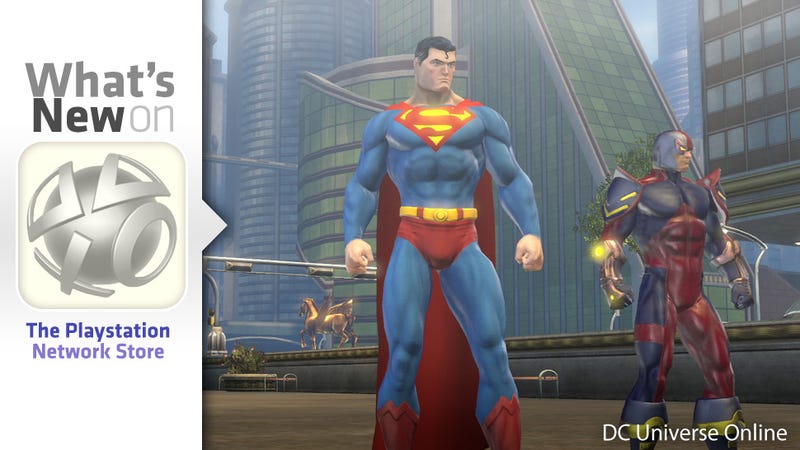 Up this week at the PlayStation Store is the free-to-play addition of DC Universe Online, as well as Hydrophobia Prophecy and a demo for the upcoming Move game Medieval Moves: Deadmund's Quest.
The Arkham City Nightwing DLC pack is also available, as well as "various add-ons" for the just-released Uncharted 3: Drake's Deception. Finally, Saints Row fans can download the "Initiation Station" and start coming up with the craziest characters they can think of.
Check out the full list below.
Games & Demos for PlayStation 3
Hydrophobia Prophecy ($9.99)
Pinballistik ($3.99)
Max & The Magic Marker – Gold Edition ($9.99)
Mortal Kombat Vs Dc Universe Digital ($19.99)
DC Universe Online Free-To-Play (free)
Medieval Moves: Deadmund's Quest Demo
Max & The Magic Marker – Gold Edition Trial
Saints Row: The Third Initiation Station Demo
Happy Feet 2 Demo
Games & Demos for PSP
Fate/Extra ($24.99)
Fighting Fantasy: The Warlock Of Firetop Mountain ($4.99) (PSP Mini)
Add-ons & Expansions
DC Universe Online Fight For The Light ($9.99)
MotorStorm Apocalypse Halloween Livery (free)
UNCHARTED 3: Drake's Deception Various Add-ons (x31) ($0.49 – $9.99 each)
Everybody Dance Pack 1 ($8.99)
LittleBigPlanet 2 Uncharted 3 Drake Costume SOCOM 4: ($1.99)
SOCOM 4: U.S. Navy SEALs Evac Co-Op Pack ($7.99)
Batman Arkham City – Nightwing Bundle ($6.99)
Dead Rising 2: Off The Record: BBQ Chef Skills Pack ($1.99)
Pinballistik: Made Of Money ($2.99)
Pinballistik: Sector X ($2.99)
Rocksmith – Bodysnatchers By Radiohead ($2.99)
Rocksmith – Free Bird By Lynyrd Skynyrd ($2.99)
Rocksmith – Tighten Up By The Black Keys ($4.99)
Cars 2 Various Add-ons (x10) ($0.99 – $2.99)
EA Sports Season Ticket – Time Based (12 Months) ($24.99 each)
Worms Crazy Golf Carnival Course (free)
Rock Band 3 tracks
"Breath" – Breaking Benjamin ($1.99)
"Forever" – Papa Roach ($1.99)
"Until The End" – Breaking Benjami ($1.99)
"Breath (Pro Guitar)" – Breaking Benjami ($0.99)
Rock Band Network tracks
"Madness" – Myrath ($1.99)
"Scissors" – Emery ($1.99)
"Toast (Live)" – Heywood Banks ($0.99)
"You Only Live Once" – Suicide Silence ($1.99)
Game Videos
Xcom – Dev Diary 1: What Is Xcom
Risen 2 Dark Waters Gamescom Trailer
Risen 2: Dark Waters – Reveal Trailer
Crysis 1 Trailer
Nba Jam: On Fire Edition – Launch Sizzle
Rock Of Ages: Rolling Through The Ages Trailer
Rock Of Ages: Teaser Trailer
Driver San Francisco Launch Trailer
Motionsports Adrenaline Debut Trailer
Rayman Origins Bubble Dreamer Trailer
Rayman Origins Comic-Con Trailer
Hollywood Squares Trailer
Pulse 11/1 Edition GT Academy Behind the Scenes – Road to Le Mans
Themes, Wallpapers & Avatars
4 Elements Hd: Wallpaper 5
Sideway: New York Static Theme (Free)
Resistance 3 Survival StaticTheme ($3.99)
Dark Souls Prepare To Die Theme ($2.99)
A Is For Astronaut Dynamic Theme ($2.99)
NCAA – West Virginia Dynamic Theme ($2.99)
NCAA – Texas A&M Dynamic Theme ($2.99)
NCAA – Notre Dame Dynamic Theme ($2.99)
NCAA – Oklahoma Dynamic Theme ($2.99)
Abstract Blue Distortion Dynamic Theme ($2.99)
Abstract Particle Dance Dynamic Theme ($2.99)
Aquarium 2.0 Dynamic Theme ($2.99)
Digital Blasphemy: Thetis Tropic Dynamic Theme ($2.99)
Digital Blasphemy: Tears Dynamic Theme ($2.99)
Digital Blasphemy: Vigil Dynamic Theme ($2.99)
Digital Blasphemy: Phraxis Moon Dynamic Theme ($2.99)
Digital Blasphemy: Flourescense Tropic Dynamic Theme ($2.99)
Dynamic Bikini Girl Theme ($2.99)
Views Of The World Static Theme ($1.49)
In The Wild Static Theme ($1.49)
Wild World Static Theme ($1.49)
Castlevania: Harmony Of Despair Avatar Collection ($2.99)
Castlevania: Harmony Of Despair Alucard Avatar ($0.49)
Castlevania: Harmony Of Despair Charlotte Avatar ($0.49)
Castlevania: Harmony Of Despair Jonathan Avatar ($0.49)
Castlevania: Harmony Of Despair Julius Avatar ($0.49)
Castlevania: Harmony Of Despair Maria Avatar ($0.49)
Castlevania: Harmony Of Despair Richter Avatar ($0.49)
Castlevania: Harmony Of Despair Shanoa Avatar ($0.49)
Castlevania: Harmony Of Despair Simon Avatar ($0.49)
Castlevania: Harmony Of Despair Soma Avatar ($0.49)
Castlevania: Harmony Of Despair Yoko Avatar ($0.49)
Monster Hunter Freedom Unite Felyne Acorn Armor Avatar ($0.49)
Monster Hunter Freedom Unite Felyne Fighter Avatar ($0.49)
Monster Hunter Freedom Unite Hunter Avatar ($0.49)
Monster Hunter Freedom Unite Kirin Armor Avatar ($0.49)
Monster Hunter Freedom Unite Kut-Ku Avatar ($0.49)
Monster Hunter Freedom Unite Nargacuga Avatar ($0.49)
Monster Hunter Freedom Unite Poogie Memorial Stripe Avatar ($0.49)
Monster Hunter Freedom Unite Rathalos Avatar ($0.49)
Monster Hunter Freedom Unite Rathalos Azure Avatar ($0.49)
Monster Hunter Freedom Unite Tigrex Avatar ($0.49)
Sales, Price Drops & Bundles
Dragon Age: Origins Digital (Price Change) (PS3) (now $19.99, original price $29.99)
Hasbro Family Game Night (Price Change) (PS3) (now $19.99, original price $39.99)
Mass Effect 2 Digital (Price Change) (PS3) (now $19.99, original price $39.99)
Tiger Woods Pga Tour 12 Digital – Public Release (Price Change) (PS3) (now $39.99, original price $59.99)
Superstars V8 Racing (Price Change) (PS3) (now $4.99, original price $9.99)
Under Siege (Price Change) (PS3) (now $13.99, original price $19.99)
Phantasy Star Portable 2 – Digital (Price Change) (PS3) (now $14.99, original price $19.99)
Music
UNCHARTED 3: Drake's Deception Soundtrack ($9.99)
UNCHARTED 2: Among Thieves Soundtrack ($5.99)
UNCHARTED: Drake's Fortune Soundtrack ($5.99)
PlayStation Plus
Hydrophobia: Prophecy (Free)
Crash Bandicoot
Crash Bandicoot 2
Crash Bandicoot3: Warped
CTR: Crash Team Racing
Rumble Trucks
MORTAL KOMBAT VS DC UNIVERSE DIGITAL (Free Full Game Trial)
Hasbro's Family Game Night – 50% off Sale Price (PS+ Price: $10.00)
Robots Dynamic Theme
Qore Episode 42 – November Early Access
Monster Hunter Freedom Unite Avatar Bundle 1
---