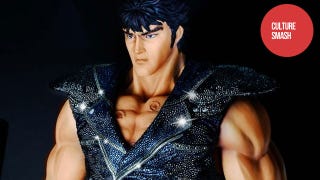 Fist of the North Star started life as a badass manga. A badass manga needs a badass figure. A big badass figure. But does it need Swarovski crystal? You bet it does.
Fist of the North Star follows the adventures of Kenshiro as he punches the shit out of people and utters hard-nosed likes like, "You're already dead."
When Koei Tecmo released Fist of the North Star: Ken's Rage in 2010, it wheeled out a life-sized Ken statue, along with pop idol Nana Tanimura.
Now a year later, Ken is back. This time, Osaka-based figure maker Kaiyodo has redone the Ken statue and covered it in roughly 500,000 Swarovski crystals, apparently worth ¥10,000,000 or $130,000. The figure cuts a striking figure. It also sports a glitter crotch.
This week, the figure is getting its unveiling in Tokyo's ritzy Ginza, where on Oct. 29, it will be possible to have your photo taken with it. Starting Nov. 1, the figure will go on display at Tokyo Narita Airport.
The sparkly Ken figure is excessive, sure, and feels somewhat out of step with the crappy global economy. But this isn't mere figure hedonism (hello glitter crotch!), this is for a good cause.
Between Dec. 11 and Dec. 17, the figure will go up for bidding on Japan's Yahoo! Auction site, with a portion going to victims of the March 11 earthquake.