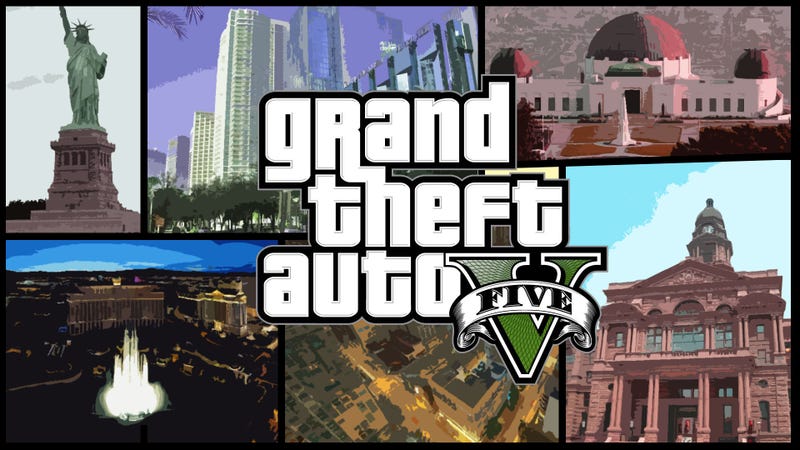 Grand Theft Auto is a franchise driven by stories, with a massive cast of characters and nearly endless replayability. But the thing that most distinguishes one Grand Theft Auto from the next is Rockstar's glorious, subversive take on each of the games' settings.
The cityscape of a Grand Theft Auto is often the game's most important character, shaping everything about the game from how you play it to the story that is told. It's the city that also becomes the backdrop for all of those amazing stories that the gamers create themselves through hours of exploration in vast, interactive settings. And as mulitplayer grows in importance, it will be the city that forms a backdrop for those secondary experiences and online romps.
There's a really good chance we'll get at least an idea of where Grand Theft Auto V takes place when Rockstar releases the first official trailer on Nov. 2. Until then we're left guessing, but there are some tantalizing clues and history that can make these guesses at least a little educated.
The Clues
All we have to work with officially is that Grand Theft Auto V logo, so let's take a look. The font is pure Grand Theft Auto with two exceptions:
The letter V, or Roman numeral five, looks an awful lot like the art style and font used on U.S. currency. See the fine lines that give that capital letter its green shade. The V could stand for a city name, or just the number five. The font and art style could point to something money related or—and this is a stretch—maybe that V stands for the five dollar bill (which contains no roman numeral V, but does have a picture of the Lincoln Memorial on the back).
The word five is spelled out over the V in this logo. Grand Theft Auto IV's official logo doesn't use a different font for the Roman numeral IV. Nor does it bother to spell out the number four across that numeral. Both of these lend a bit of credence to the notion that the V in Grand Theft Auto V has more meaning than just as a number. (Or it could just be an opportunity to repeat the currency theme.)
Past rumors have indicated the next Grand Theft Auto will be set in California. We even had a casting call to back it up. Thing is, we're not entirely sure that codename Rush project is really for a Grand Theft Auto game, it just sounds like it is.