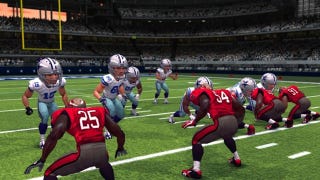 Midway's classic game of over-the-top seven-on-seven football returns with online multiplayer and HD graphics this January, when EA Sports releases NFL Blitz, a downloadable game for the Xbox Live Arcade and PlayStation Network.
While the more dedicated football fans were plowing through primitive Madden titles (or actually going outside to play), those of us that loved football but not enough to play by the rules found solace in Midway's NFL Blitz, a game where the ridiculously large scores we'd rack up in Madden's easy mode made much more sense.
Rumored since late last year, EA's revival marks the first time the franchise has carried the NFL license since 2003, as well as the first time it's been presented in full HD. The new game features a selection of players from all 32 NFL teams playing in 31 different NFL stadiums. Handling commentary this time around will be former NFL Blitz announcer Tim Fitzroy, with actor Brian Haley adding a little more color.