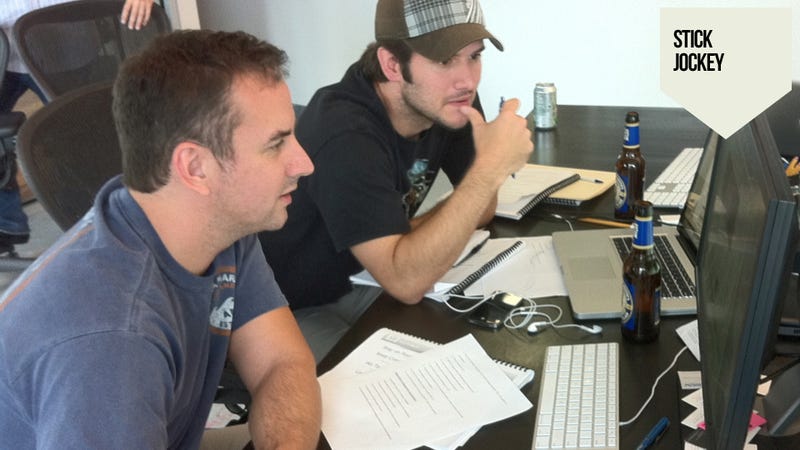 As a 10-year veteran of the Madden NFL series, Ian Cummings has plenty of experience building video games with bears in them.
It's the raccoons and beavers that are a bit of a departure this time.
"It's awesome to work on a sports game, and it was great to work on Madden, and to meet athletes and celebrities, " says Cummings (pictured above, right), whom hardcore sports gamers recognize as that series' former creative director, leaving that job in April. "But at some point, you realize that you're still working on the same game every year."
Cummings, now the creative director for the Orlando-based games startup Row Sham Bow, certainly isn't doing that this year. At this time in 2010, he was consumed with football telemetry, and engaged in long-running Twitter debates over things like surprise onsides kicks. Today he is overseeing a struggle among cartoon wildlife in Woodland Heroes, a don't-call-it-a-Facebook-game Facebook game that just went into its open beta period.
Cummings isn't the only EA Sports veteran to make the trade. Row Sham Bow was co-founded by Philip Holt (pictured above, left), the former general manager of EA Tiburon, better known as Madden's studio. Located about 30 minutes away from the old joint, Row Sham Bow is stacked with EA Sports veterans; including co-founder and chief technology officer Nick Gonzalez, the software architect behind Tiburon's major online offerings, including its Madden and PGA branded games
Holt, the company's president and CEO, pointedly mentions that he didn't recruit anyone when he left earlier this year. And while all the departures were all said to be on pleasant terms, they did come after an across-the-board reorganization that ousted Holt, by all rights a well-liked boss. EA Sports upended its traditional heirarchy at the end of 2010, following the collapse of NBA Elite 11, though the label said the reorganization was conceived independent of that. The boss of the Canada studio responsible for Elite lost her job. Holt was invited to stay and did, briefly, but ultimately figured this was the time to try something he'd itched to do for a long time: Start his own studio.