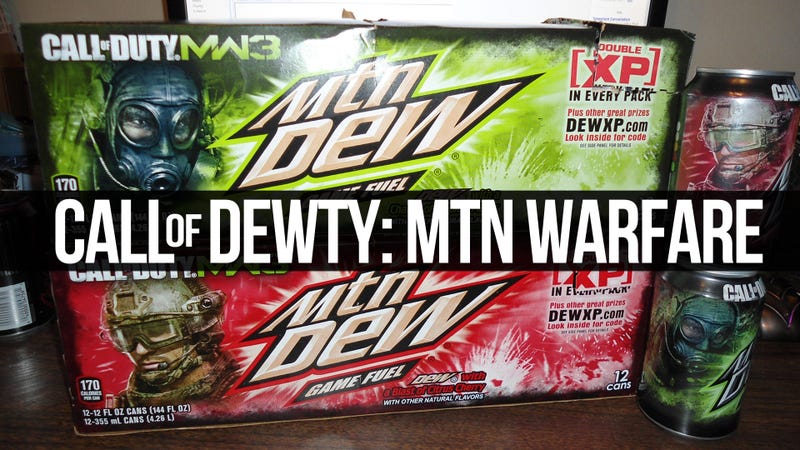 Me and Johnson crept through the underbrush like we'd be born there, natural predators in our element, the scent of blood luring us further into enemy territory. Further into a trap.
One minute the jungle was quiet, the next it erupted in the roar of gunfire and the triumphant shouts of the enemy platoon as we self-styled masters of stealth crashed through the foliage. We ran for what seemed like hours, until our pursuers were just the rustling of leaves somewhere in the darkness. We collapsed to the ground, coughing and wheezing. It was only then that I noticed the blood.
Johnson had his arm wrapped tightly around his stomach, but it wasn't enough to keep his life from seeping away. I cradled him in my arms as the light slowly left his eyes. It was then, just before his last breath, that he whispered the words that will haunt me the rest of my days.
"This tastes just like cherry citrus."

*******************************************************
Even if you've never let a drop of the strangely fluorescent green liquid pass your lips, playing video games immediately identifies you to the general public as someone that enjoys the delicious citrus-ish taste of Mountain Dew. Once marketed as the extreme beverage for extreme people participating in extreme activities, someone at Pepsi finally realized that none of these highly physical activities would be possible if these extreme people spent all their time downing syrupy-sweet soda 12 ounces at a time.
That's where gamers come in. We enjoy extreme things, but our sort of extreme lends itself well to sitting on the couch pumping high fructose corn syrup, citric acid, sodium benzoate, and "natural flavors" into our systems at a dangerously unhealthy rate. It's not particularly good for us, but we're stuck with it.
Since gaming and Mountain Dew have become such close advertising buddies, the marketeers at Pepsi have been having fun rolling out special flavors for special gaming occasions.
The most notorious instance of this was Mountain Dew Game Fuel, rolled out for the launch of Halo 3. It was the orange drank of Mountain Dew, cheap and nasty. I drank a ton of it during the New York City Halo 3 launch, and I'm not sure I've ever really recovered.