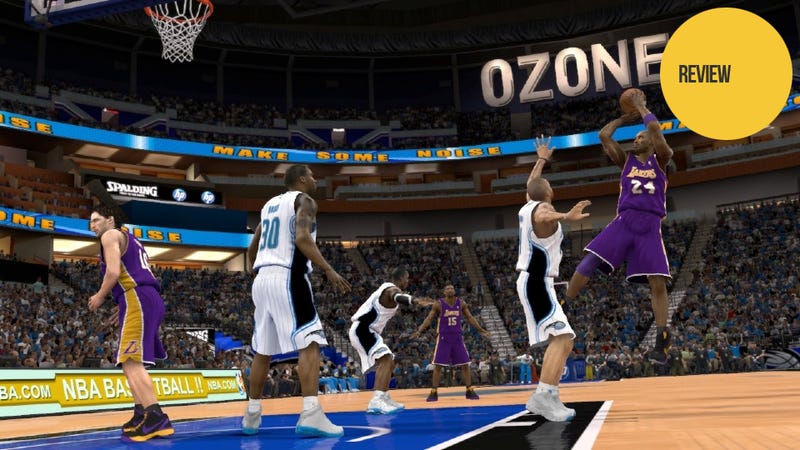 Midway through an early season Hornets-Heat contest the screen cuts to a promotion telling me Friday night, Kobe Bryant and the Lakers take on the Denver Nuggets at Staples Center. Sounds like a good game, I think to myself. What time is that on? 7:30 p.m., the screen tells me.
Two days ago in real life, NBA commissioner David Stern canceled the first two weeks of the NBA season—including this Lakers-Nuggets matchup. Yet here I'm following basketball in NBA 2K12, a video game that is doing its damndest to be a surrogate for a league that appears likely not to play at all this year, and possibly deep into next.
Some sports bar should put a computer-vs.-computer game, from within an Association season, on its house TV and speakers one night during this lockout and see how many people in fact notice. NBA 2K12's player movement and behavior, long a strength, is still the best you'll ever find in a sports video game. Abetted by a new collision system and shown off with a best-in-class broadcast package, the on-court action is good enough to make that kind of Folger's switch worth trying in a noisy bar.
Yet its four main modes of play, from the time-capsule "NBA's Greatest" to online multiplayer, range from achievement to marginal improvement to inexcusable disappointment. That NBA 2K12 pulls—and deserves—rave reviews despite that mixed-bag performance speaks of the critical importance of gameplay, physics and presentation in the sports genre.
***
My day-one impressions covered NBA's Greatest in-depth; I'll revisit it here just to say that it is one of the most delightful concepts I've ever seen in sports video gaming. It touches a fan's deep sentiment for the history of the league and, with the lockout now officially canceling regular season games, arrives just in time. For many, NBA's Greatest by itself makes this worth the purchase. For some, a single team offered in NBA's Greatest will be worth it.