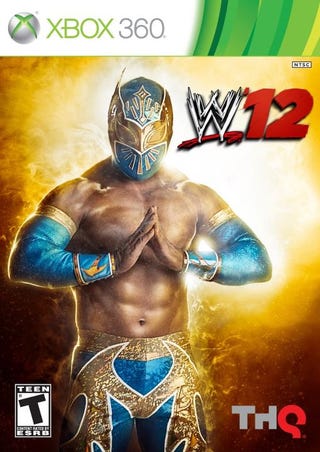 Regional covers for sports video games are not uncommon, especially for titles like FIFA. (Madden, once upon a time, also had a Spanish edition). I don't know that it's ever been done for THQ's WWE series before now, though. [Update: It has. Several times.]
There is a huge, rich, pro wrestling scene down in Mexico, however, and for fans down there, they can pick up a copy of WWE 12 with Sin Cara, the CMLL star formerly known as Mistico who signed with the WWE at the beginning of the year. At least I think this is the Sin Cara they're referencing. An impostor Sin Cara was also signed by WWE, and both luchadors two battled it out last Sunday, with Sin Cara (Azul)/Mistico prevailing.
The cover will be available at retail in Mexico but THQ has said it will make a copy available for download, so lucha libre fans may print it out and swap it in if they like. The standard cover will feature Randy Orton; a "People's Edition," will feature The Rock.
Sin Cara WWE '12 Cover Revealed [Captain Starball]
---