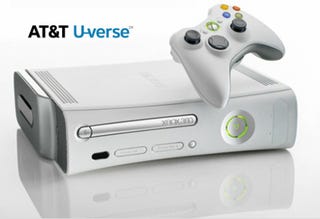 Wednesday, Microsoft announced that more than 40 providers had signed on to deliver TV programming to Xbox Live. One of those, AT&T, has been supplying content through its Uverse service for about a year, where it's been available to free subscribers. Now it will completely transition to Xbox Live Gold.
Therefore, AT&T is giving its Uverse for Xbox subscribers a $60 credit on their next bill so they can buy up a Gold subscription, reports Giant Bomb. The credit will be applied after Uverse transitions to Xbox Live Gold in November, which means subscribers are gonna pony up for a sub and then get paid back.
However, the notice doesn't discriminate between Uverse subscribers who already have a Gold subscription and those who don't. So maybe some will simply pocket the credit.
Some New (And Old!) Xbox Live Services to Require Gold [Giant Bomb]
---