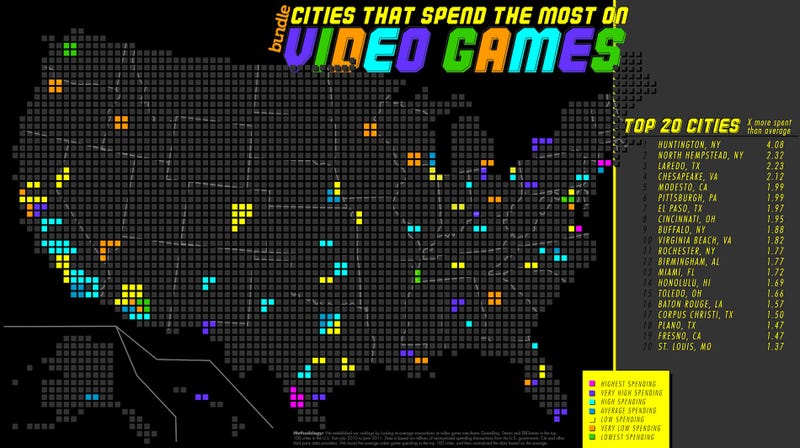 Huntington, New Yorkers spend more than four times the average amount of video games, according to a recent study by credit card spending tracker Bundle.
The study looked at spending at GameStop, EB Games and Steam from July 2010 to June 2011 for the top 100 cities in the U.S. by population. Bundle based their study on aggregated, anonymized spending data from 20 million Visa and Mastercard customers. So that means that the results are impacted heavily by the sorts of people who have a credit card and use it for purchases regularly. But it's still an interesting study.
Here's the full list of the top 50 cities that spend the most on video games, check out Bundle for some other interesting facts about gamers.
Click on the bottom right of the image to see it full sized.
1. Huntington, New York
2. North Hempstead, New York
3. Laredo, Texas
4. Chesapeake, Virginia
5. Modesto, California
6. Pittsburgh, Pennsylvania
7. El Paso, Texas
8. Cincinnati, Ohio
9. Buffalo, New York
10. Virginia Beach, Virginia
11. Rochester, New York
12. Birmingham, Alabama
13. Miami, Florida
14. Honolulu, Hawaii
15. Toledo, Ohio
16. Baton Rouge, Louisiana
17. Corpus Christi, Texas
18. Plano, Texas
19. Fresno, California
20. St. Louis, Missouri
21. San Antonio, Texas
22. Wichita, Kansas
23. Montgomery, Alabama
24. Tulsa, Oklahoma
25. Hialeah, Florida
26. Riverside, California
27. Lubbock, Texas
28. San Bernardino, California
29. Fort Worth, Texas
30. Philadelphia, Pennsylvania
31. Fort Wayne, Indiana
32. Bakersfield, California
33. Lexington-Fayette, Kentucky
34. Chula Vista, California
35. Albuquerque, New Mexico
36. Akron, Ohio
37. Jacksonville, Florida
38. Greensboro, North Carolina
39. Tucson, Arizona
40. Raleigh, North Carolina
41. Stockton, California
42. Arlington, Texas
43. Durham, North Carolina
44. Long Beach, California
45. Chandler, Arizona
46. Lincoln, Nebraska
47. Anchorage, Alaska
48. New York, New York
49. Milwaukee, Wisconsin
50. Aurora, Colorado
Game-obsessed: U.S. cities that spend the most on video games
---