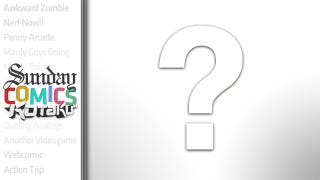 Last week we took nominations for a new feature to take Rooster Teeth's place in Sunday Comics. After reading through all of your suggestions, we've come up with a list of eight candidates for your vote. This is your decision. Please make it carefully.
The eight candidates are in that gallery above, published in alphabetical order by title. Their most recent strip is included. The gallery captions include a link to the feature's archives should you wish to see more. I encourage you to read back through them, see if they take on the kinds of subjects you like, in the format you like, with the frequency you want.
Then vote in this poll. (Sorry to list it on a separate page. It's a formatting thing with regards to the gallery) The candidates are listed in random order there, so be sure you know the name of the feature you prefer. If your feature doesn't win out, don't lose faith. Should any changes become necessary in the future we will definitely note reader reaction here.