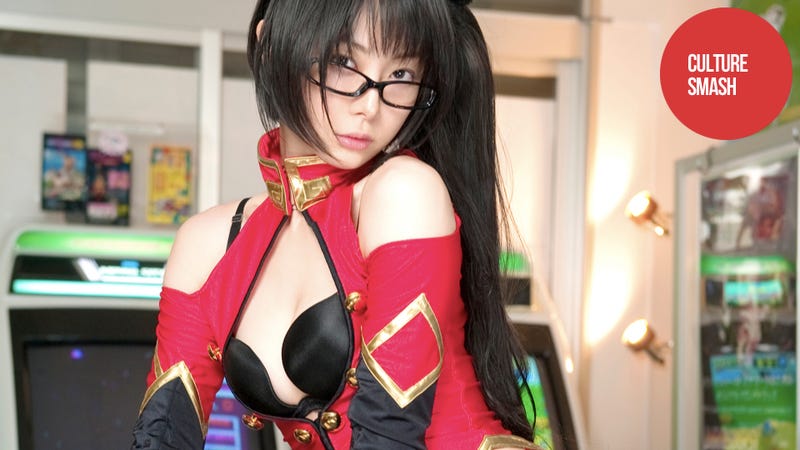 Its beginnings were humble. During the late 1970s and early 1980s, Japanese fans went to manga and anime conventions dressed as their favorite characters. There's a long history of people dressing as their favorite characters in the West, too—notably, Trekkies.
Those were innocent times. As the 1980s wore on and turned into the 1990s, the idea of cosplay continued to infiltrate Japanese pornography, which had long placed great importance on costume and dress. Now, there's more importance being placed on the lack thereof&mash;impossibly small bikinis, bare buttcheeks, and even plastic cocks.
In the past, Japan used clothes as class markers, even permitting only certain classes to wear specific colors. During the 19th century and 20th century fashion became divided between traditional (the kimono) and the modern (Western dress), and the country became fanatical about European and American fashions. There's even an element of cosplay to the 19th century photos of the Meiji Emperor dressed in European style military garb, instead of traditional Japanese duds.
Love hotels began offering costumes for guests to rent. Ditto for many arcades, which offered outfits for people taking sticker picture photos. The costumes weren't anime or game characters, but usually nurse outfits, schoolgirl clothes, or business woman uniforms—the kind of costume play common in Japanese adult videos. Cosplay, however, still had more of a geek bent. It was fandom, not fucking.
During the late 1990s and around the turn of the century, with cosplay cafes popping up in Akihabara and with "image clubs" (places of prostitution where the girls dress up in outfits to create an "image") increasingly popular, erotic cosplayers began to take their initial steps. By around 2003 or 2004, cosplayers were wearing increasingly sexy outfits. The increase of skin seems to directly relate to both the explosion of the internet and the increase in quality of digital photography. By 2006, cosplayers like Ushijima Ii Niku arrived on the scene and were making names for themselves.