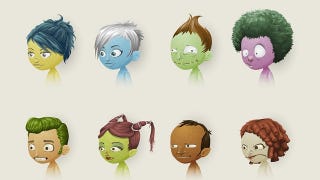 The colorful, imaginative online game from the team behind Flickr and the man behind Katamari Damacy goes live today at 1 p.m. eastern.
In Glitch, players ramble through the collective imagination of 11 god-like giants. The free-to-play world exists on a persistent, ever-evolving playground that is shaped not just by the game's developers, but by the players.
"Our vision for Glitch is to bring a new level of creativity, beauty and social engagement to players who expect more from their online social gaming experience – an experience that has value beyond traditional forms of entertainment," said Stewart Butterfield, CEO and co-founder of Tiny Speck. "Glitch is an experiment in culture building. We provide raw materials and a stimulating environment, but it's the players who bring the infinite world alive, shaping it with their imagination."
Over the summer, Glitch made a splash when they announced that they had enticed retired game developer Keita Takahashi to join them in Canada to work on the upcoming game. Takahashi, famed Japanese game designer and creator of surreal games like Katamari Damacy and Noby Noby Boy, told me at the time he plans to be work to make the world unique, fun and surprising.