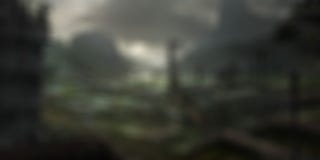 The latest Modern Warfare game is coming out this fall. The game designers who spearheaded Call of Duty's move from World War II to modern combat left long ago to work on a new title at new studio.
Back in spring 2010, Infinity Ward co-founders Vince Zampella and Jason West ran into a spat with Activision that resulted in Zampella and West leaving Infinity Ward. Nearly half of the studio followed suit. From the ashes of Infinity Ward a new independent studio was created: Respawn Entertainment.
"We've kind of been underground a little bit by design because we don't have that much exciting to talk about," Zampella said recently at the 3D Entertainment Summit in Los Angeles. "But we are getting there."
According to Zampella, that's why they relaunched the Respawn Entertainment website. That website offers a blurry first look at the upcoming multi-platform title Electronic Arts is funding and publishing. Respawn owns the IP.
The blurry image first appeared online this summer.