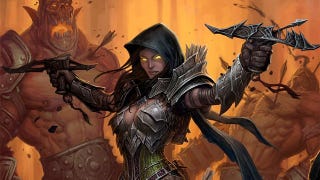 Hurry! To the Battle.net account! Blizzard Entertainment has just dropped word that the long-awaited closed beta for Diablo III has begun and that the developer has "started issuing the first wave of invitations to participate in the testing process."
If you registered for the Diablo III beta, log into your Battle.net account, then click on the "ACCOUNT" tab to find out if you're one of the lucky few. Even if you aren't in today, don't lose hope. Blizzard also says it's "planning to add more participants over the course of the beta test."
The closed beta lets players explore part of Act I from Diablo III, experimenting with the game's five classes—barbarian, witch doctor, wizard, monk, and demon hunter—and the game's skill and crafting systems. It's largely the same content we played a couple months ago at Blizzard HQ. The beta client (which runs approximately 2.7 GB) is available for Mac and Windows PCs and should be available for download right now if you were selected.