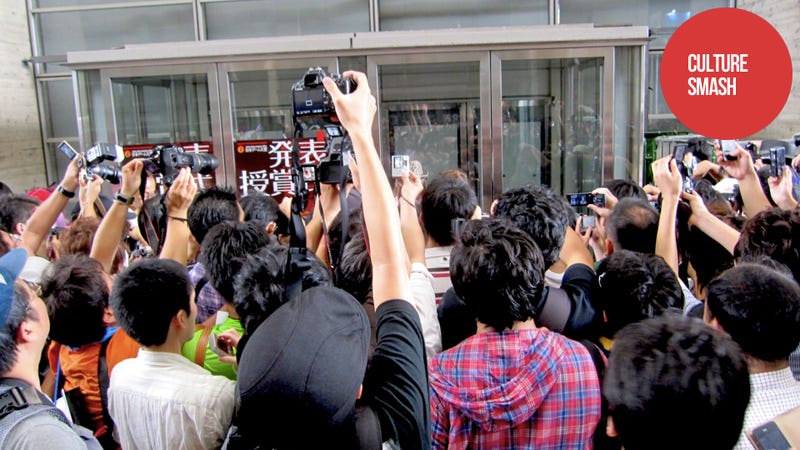 Saturday was hell. The Tokyo Game Show convention halls overflowed with 86,000 people. Not everyone was there to game. Many had something else in mind: Taking pictures of cosplayers.
Tokyo Game Show's cosplay alley is a walkway between convention center halls. Cosplayers agree that the lighting and even the stone structure and frosted glass backgrounds is ideal. The weather and the crowds were less so.
"Cosplayers this year are having a tough time," said cosplayer Zaki, who was dressed as Lunatic from Tiger & Bunny. "It's just too hot." It was still morning when I spoke with Zaki, who towered over me, her waist seemingly overtaking my shoulders. She and her friend, Kikyou, were sitting at a white table next at the grimy ramen restaurant next to the convention center.
"If only the Tokyo Game Show organizers would move the show back to October," Zaki continued. "Cosplayers are usually wearing clothes that are sometimes heavy or that do not breathe, or are wearing make-up." Why not offer a cosplaying space—with air con—Zaki wondered.
That cosplay alley became packed as Saturday wore on. The unmistakable stench of sweaty humans permeated. People scurrying to take photos would push up to you, leaving a slug trail on your arm. Cosplayers and their impeccable make-up became runny and sweaty.
This year, more than any previous year, there seemed to be more looky-loos who were not soaking up the cosplay as part of TGS, but overdosing on it. Their day would be spent stalking up and down cosplay alley, snapping pics.
"Cosplayers this year are having a tough time. It's just too hot."
There wasn't a steady flow of people in and out. There were people who were coming and weren't going. They were lingering. Many of the cosplayers weren't making it any better, with some telling those who wanted to take photos to form a line, others shouting.
"Don't take my photo, go line up over there!" a guy dressed as Ryu screamed. Lines wrapped around, clogging up the alley.
The snafu ended up being that when these armchair photographers spend thirty minutes waiting in line, taking one or two photos doesn't suffice, leading to incredibly awkward (and public) photo sessions that last way longer than they should. The Mai Shiranui butt photo session was an extreme example of this, but so many of these amateur photographers thought they were in their private cosplay studio, while others just wanted to get a snap and move on.