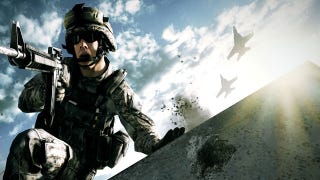 The first thing I notice when I maneuver Sgt. Henry Blackburn, 1st Recon Marine, through the smoking door frame of the Tehran apartment complex isn't the smoldering bodies lying on the ground nearby, it's the piece of paper drifting through the room.
I follow it with the tip of my gun, watching it drift around the run down entry way, past an old wooden chair, a slightly flattened box, chipped and dirty walls. Someone took the time to create this piece of imaginary paper and the path it takes as it floats on imaginary crossdrafts in a video game about a future fictional battlefield in Iran.
I stop to jot down a few notes.
"Make my way to the apartment entrance," I write. "Kinda skudgy. Debris and trash lying around. Paper fluttering the air. Carpet on the floor is rolled up in one corner. Old mattress lying in the hallway."
Played on a Playstation 3, Battlefield 3 is a solid first-person shooter with tight controls, immersive sound and a hectic, driven storyline. But it's the density of the game's visuals that always stand out to me when I play this game.
This morning I had a chance to play a snapshot of the game, a ten minute or so demonstration of a level called Operation Guillotine. Hours earlier Luke Plunkett played and enthused about his time with the very same demo in Tokyo. So when I take the PS3 controller in hand here in New York I decide to meticulously pick my way through the brief time with the game.