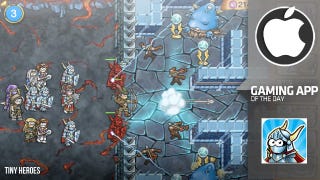 You see the icon, you read the name, you boot it up, you think Tiny Heroes is about deploying a diminutive unit to plunder the gold from the dungeon laying out there before it. Wrong.
In this game, you are a goblin, and your job is to marshal your resources to keep the Tiny Heroes at bay, much like Dungeon Keeper, the beloved PC RTS that turned the premise of plundering on its head.
Tiny Heroes (for iPhone and iPod Touch) is delivered by the makers of geoDefense, one of just three gaming apps (EDGE and Dapple are the others) to remain on my iPhone since I reviewed them more than two years ago. In it, your job is to stop the waves of determined dungeon fighters with floor traps, ballistas, giant "gorks," bombs and other tools in an increasingly desperate struggle to protect your goblin treasure.