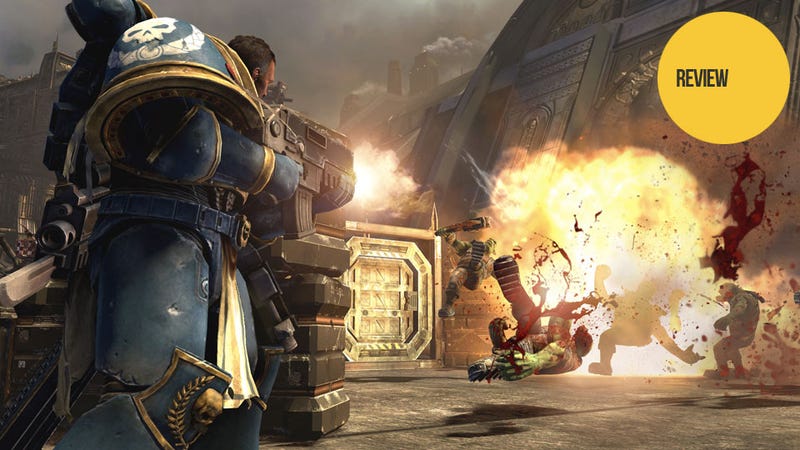 Until recently I was under the impression that Warhammer 40,000 was a tabletop war game played mainly by bookish and bearded nerds in comic shops and out-of-the-way conference rooms at sci-fi / fantasy conventions.
Now I'm as bookish and bearded as nerds come, but somehow I've managed to avoid being drawn into the game. I've admired the time and patience it must take to coat tiny metal figurines with multiple coats of fictionally significant paint. I've marveled at the intricate crafting work that goes into creating the elaborate miniature battlefields those figures do imaginary battle upon.
I respect the dedication and passion that it takes to be a Warhammer 40,000 player, but I've never considered crossing over into Games Workshop's world of futuristic fantasy warfare.
Then I spent a week walking in the heavy metal boots of Warhammer 40,000: Space Marine.

Having proven their understanding and dedication to the Warhammer 40,000 universe with the Dawn of War series of real-time strategy games, Relic Entertainment now brings us a third-person shooter / slasher that focuses on a single member of the Imperium's elite fighting forces. When an army of Greenskins invade the Forge World of Graia, where some of the Imperium's most powerful weapons are made, Captain Titus' three-man squad of Ultramarines is the only fighting force close enough to the planet to help, but what can three men do in the face of several thousand Orks?