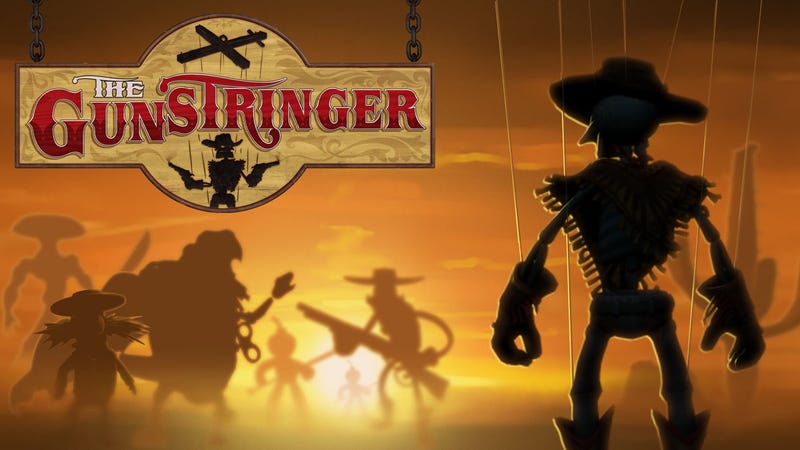 The Gunstringer is likely the first dead cowboy puppet shooter you've ever played.
When players first raise their hand, wrist limp, fingers spread loosely, to their side while standing in front of their television and Xbox 360 Kinect, they don't know what to expect or do. Which is understandable: It's probably also the first time most players will be trying to control a puppet with invisible, imaginary strings.
The first time the player lifts their hand and the puppet stands loosely in response it seems magical. It has to. It's the most important moment of the entire game, explains Josh Bear, chief creative officer of developer Twisted Pixel.
"Especially with Kinect, if you do something and that first time it doesn't register or feel right in your head it immediately kind of sucks," he tells me.
And that uncomfortable feeling with a game is hard, if not impossible to overcome. That's why Twisted Pixel decided not to make a true marionette simulator. They knew they had to create something that felt good and was fun to play. So they created the illusion of controlling a puppet. But that almost wasn't the case.
"We found a marionettess, a sister of a friend," Bear said. "She is very talented and has been doing this for like 20 years. We thought of having her fly down (to Austin, Texas) and showing the team about how it works and working with animators to help with the game.
(Twisted Pixel celebrated the game's completion with a beard-festooned cake.)
"But we ended up not doing it because time was a factor, but also even if you got those movements down perfectly it would have looked like crap."
Bear and the developers all felt that the game would always have a sort of disconnect between the real motions of controlling a puppet and what you saw on the screen. It hearkens back to the notion of a kinetic dissonance I've written about before. The idea that until it's perfect, motion control needs to stay away from trying to capture true 1-to-1 motion.