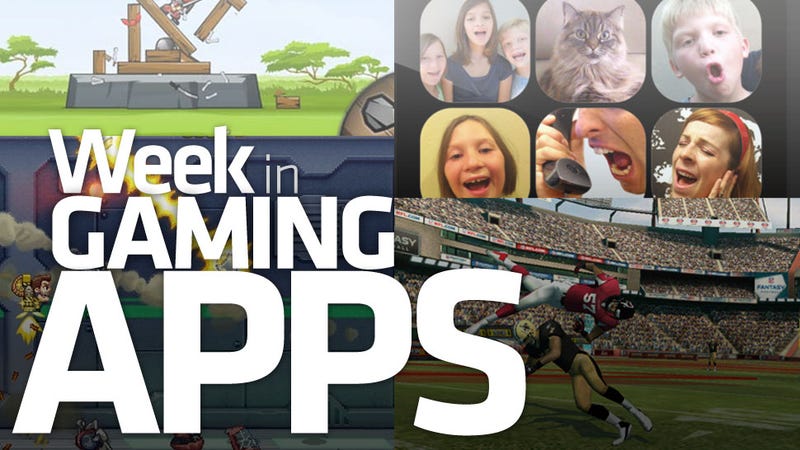 Between vacations and major gaming events, we've spent far more time playing gaming apps than writing about them over the past few weeks. This week we bounce back with something old, something new, something NFL-related, and something oddly musical.
Are you ready for some football? No? Then are you ready for a music creation app from the makers of Rock Band? If neither of those do it for you, we've still got a jet-pack game you'd be silly not to buy, and a game so good we named it app of the day twice. Yep, we're off to a great re-start. Let's see if we can do five next week!
If you have a suggestion for an app for the iPhone, iPad, Android or Windows Phone 7 that you'd like to see highlighted, let us know.

Surprisingly, flying with a jetpack powered by a pair of mini-guns strapped to your back is not even remotely the most enjoyable thing about Jetpack Joyride. The iOS game from Halfbrick Studios, creators of Fruit Ninja, is one of the most refreshingly simple and unexpectedly replayable downloadable games for Apple devices. More »
---
I've never liked Angry Birds. Not because I'm angry with any birds in particular, but because I always preferred the free game that came before it, Crush the Castle. Rather than get bitter at Rovio's billions, Crush's developers (well, hosts) Armor Games, are sticking at it, and have released on iOS a revision of the game called Siege Hero. More »
---
Yesterday brought word that NaturalMotion, the makers of the popular Backbreaker series of games for iOS devices, had landed a license to make an NFL game. It released today. NFL Rivals, for $2.99 (iTunes), combines the offense and defense games of Backbreaker and Backbreaker: Vengeance with authentic NFL uniforms and schedules, and adds some bragging rights. More »
---
VidRhythm isn't a game per se; it's an app that allows users to quickly assemble custom-made music videos. But given that it's made by Harmonix, the creators of Guitar Hero and Rock Band, we're gonna go ahead and call it a game just so we can write about it. One of my favorite things about the Rock Band games was how it allowed musicians and non-musicians alike to share music in a new way. There was nothing quite like sitting down with my non-musician friends and sharing music in a new way. VidRhythm offers an evolution of that same inclusive spirit, and opens musical performance up to an ever greater audience. More »
---
---