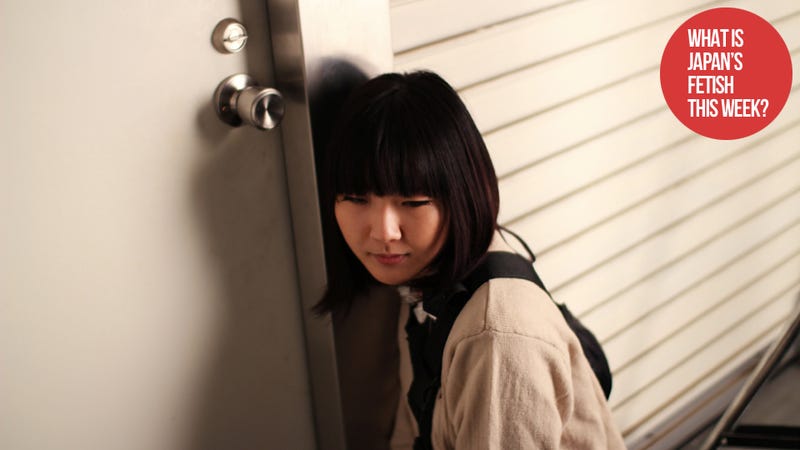 Like so many things do, it all started with a drunken tweet. This time, though, it ended up with girls licking doorknobs.
"That drunken tweet was the impetus," artist Ryuko Azuma told Kotaku. The self-taught illustrator is famous for his edgy, sexy drawings. "I tweeted that a collection of photos of a girl licking a doorknob would be a big hit."
Azuma was right. It was. The photos quickly went viral, and Azuma and his collaboration ended up on network television.
This post contains possibly NSFW imagery.
A young, then 21 year-old photographer, Ai Ehara, replied to Azuma's tweet, and "Doorknob Shojo" or "Doorknob Girl" was hatched. "If Ehara hadn't said anything," Azuma recalled, "there probably wouldn't be Doorknob Girl." Azuma rushed out and bought a new camera, and that August, Doorknob Girl photos appeared on a Tumblr.
Ehara was the first Doorknob Girl. As summer gave way to fall, and the site started to go viral, Azuma and Ehara assembled more models, putting out models wanted notices via Twitter, to photograph licking doorknobs with both Azuma and Ehara taking photos in tandem, working together.
"It was such an extraordinarily unusual idea—girls licking doorknobs," Ehara told Kotaku. "I thought through this collaboration we could do something interesting."
The photos depict a variety of young girls (shojo) with their mouths and tongues touching doorknobs. The imagery is sexually charged. Doorknobs are ubiquitous and common, bland and banal. Intrinsically, doorknob are not sexual objects in the same way that, say, a banana is. Yet, their position on a door, require the girls to kneel and by placing their mouths on the knobs. It's undeniably submissive.
"For me, all of the things that I like, bizarre things, cute things, girls, are influenced by what TV shows or anime I saw as a kid," Ehara said. "All of this manifests itself into Doorknob Girl."
A doorknob is not necessarily a sexual object. Its purpose is to open doors. Licking is not only a sexual act. Its purpose is to taste. The juxtaposition comes across as titillation and provocative, designed to elicit a response. The photos might look submissive, or exploitive, but they confront the viewer, asking the question, "What do you see?" The pictures can dominate and even exploit the viewer's notions of foreplay.
The photos are psychosexual, with the viewer, if he or she so chooses, filling in the blanks and replacing the boring with the sensual. For such a commonplace object, the doorknob is an perfect phallic symbol. Like dicks, doorknobs come in a variety of shapes and sizes, from short and fat to long and thin. And like dicks, doorknobs can transmit diseases (though, certainly not nearly as many as dicks can!), which is why Azuma and Ehara disinfect the knobs before any model puts her lips on it. "Basically, we shot whatever doorknobs were at the location," Azuma said. "But just in case, I always carried a backup knob with me to switch out."
"I always think a work is completed by the viewer. So whatever the viewer brings to the work is sufficient."
Due to censorship, Japan is infamous for using a wide variety of stand-ins for dicks, whether that be tentacles, swords, fish, or even egg plants. The use of tentacles has a long history, dating back to the 19th century when Edo period artist Hokusai was one of the first to depict tentacle erotica with The Dream of the Fisherman's Wife (NSFW), following in a sub-genre of women engaging in sexual activity with sea creatures.
Japanese censorship laws in 1907 cracked down on obscene "pictures" or "documents". From the Post War World II era, the law was increasingly used to crackdown on the depiction of genitalia. Japanese society, however, has few hangs up about nudity. These censorship regulations have forced Japanese manga artists and game designers to become more creative in how they depict sexuality. This creativity allows for something like a Doorknob Girl photoshop to appear on a nationwide late night Japanese show that's hosted by DSi spokesmen, the comedy group Audrey. Not bad for an idea hatched and crowd sourced over Twitter and brought to life on Tumblr.