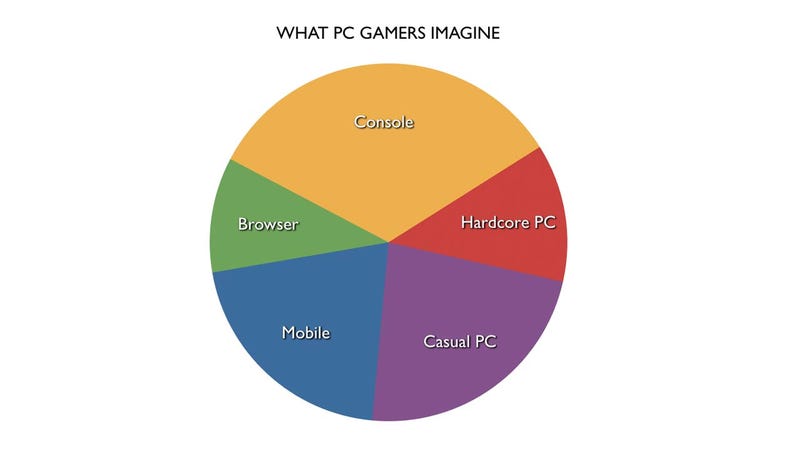 Some day soon, Nvidia's CEO Jen-Hsun Huang is going to walk on stage at some obscure electronics industry event and say these words: "We love PC gaming. Our heritage is in 3D gaming hardware. And that's why we're more excited than ever to announce we're never making another gaming video card again."
Sound like a doomsday scenario? Then you might be a PC game tinkerer.
There are two types of PC gamers. Firstly, there are people who love PC gaming because of all the fantastic things PC games have that their console or mobile games do not: a complex, precise interface; the ability to easily extend game experiences with modifications both official and otherwise; an incredible wealth of indie and experimental games; and the best graphics and sound experience a normal human being can buy.
Then there are the gamers who like the PC because they mistake tinkering with hardware from a couple of dozen of vendors—all of whom get their silicon from three giant corporations—as some sort of engineering, despite that it's more or less electric LEGO for masochists. These tinkerers are holding back PC gaming hardware—and that includes the very benchmark by which they gauge themselves: graphics performance.
PC gaming isn't going to die—but PC tinkering just might. And it's not heretical to be okay with that. I'm disappointed in the short-sighted, overly defensive members of the PC gaming community. Last week I wrote an effusive post about the Razer Blade gaming laptop, pointing out all of the laudable, intelligent things Razer (and its engineering partner, Intel) were doing with the new product line—as well as the thing they were screwing up. (The price.)