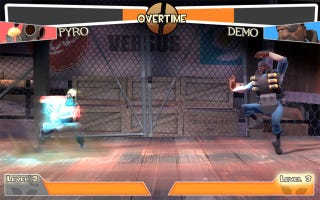 Now, more than ever, Valve Software seems to be getting serious about competitive gaming. The Team Fortress and Portal developer snapped up DotA: All-Stars developer "IceFrog" to create a sequel to that intensely competitive MOBA game. It's also investing heavily on the competitive side of the next Counter-Strike and adding new Steam features tailored to e-sports.
It even held a million dollar tournament for its next game, Dota 2, at last month's Gamescom convention.
But there's one competitive arena Valve is not yet focusing its internal efforts on, at least as far as co-founder Gabe Newell knows: fighting games.
I'll admit that asking Newell whether the company was directing any of its energies into the fighting game space may have been an odd choice of question. But Newell has spoken about interest in developing Dota 2 growing from within, based on an internal "fan impulse."
"[Dota 2] really grew out of the fact that a bunch of people at Valve were fans of Icefrog's," Newell told Kotaku at Gamescom, with the company's developers reaching out to the man maintaining DotA: All-Stars in an attempt to bring him on board and create a sequel with fewer restraints.
Newell himself is a MOBA (or ARTS) convert. He says he's played more than 800 hours' worth of Valve's Dota 2 already.