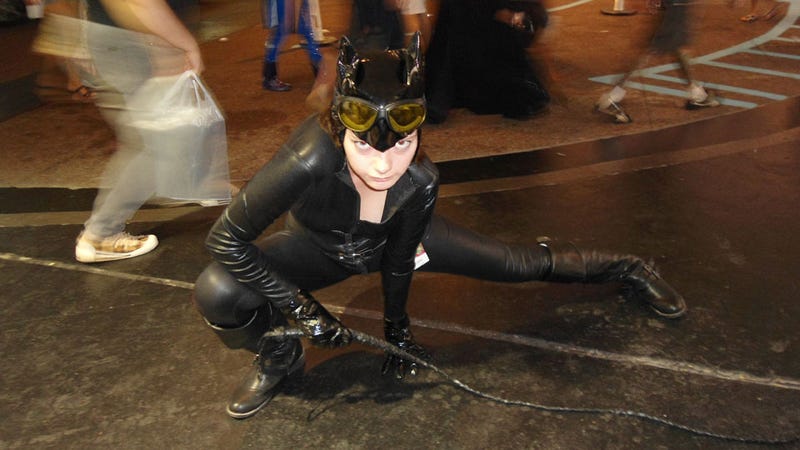 After three hours of baby-interrupted sleep, I trudged across town to Dragon Con 2011 again today, where I occupied a great many benches and attempted to stay awake. I was mostly successful.
Being dead tired has its benefits, however. Were I full of energy, I would have run about the convention madly, taking shots of every cosplayer I saw. You'd be looking at a gallery full of Naruto characters and random people in steampunk gear. Not that there's anything wrong with steampunk. I just wish they'd stop it so the dealer's room space occupied by goggles and top hats with gears glued on could once more be filled with, say, Transformers or porn.
Or a combination of both.
But no, being tired meant folks needed to really stand out in order to catch my eye. Sitting down next to me helped. Tripping over my feet as I lay splayed across the floor of one of the exhibition halls was also a plus.
Bah, enough chatter. Behold the glory of Captains America, a hungry Umbrella employee, Catwoman-ish, upskirt Kratos, the world's greatest Ash cosplay, and a few very special guests.
---
You can contact Michael Fahey, the author of this post, at fahey@kotaku.com. You can also find him on Twitter, Facebook, and lurking around our #tips page.

The greatest Ash cosplay I have ever seen.


These guys found a completely legal way to keep their child chained to them at all times.


Remember kids, this could be you.


One of the bravest Kratos cosplayers I've ever seen. This was dangerously close to an upskirt.


This is an assassin. He has a creed. Taken sitting on the floor underneath the air conditioning in the exhibit hall. Oh the lovely air conditioning.


I sat next to Cid here for nearly 30 minutes after taking this photo.


Such a smooth operator.


Dragon Quest! No one cosplays Dragon Quest anymore. Taken outside the Marriott, whilst sitting on a bench being tired.


Luigi and Daisy, two second fiddles that play well together.


Holy shit, someone cosplaying as a Kotaku reader!