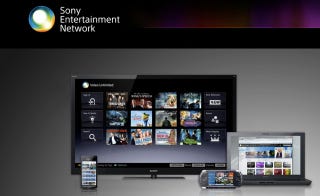 Sony is putting all its online services for music, movies, TV, and gaming under a single umbrella: Sony Entertainment Network. That means, the PSN is part of, ahem, SEN.
The Sony Entertainment Network's Music Unlimited offers over ten million tracks and multiple channels that can be accessed via PC, Android, Bravia TV, and PS3.
Video Unlimited allows video rental or purchase across current Sony devices (PS3, PSP, Xperia Play, Sony Internet TV and Bravia TV) as well as Blu-ray players and PCs. In the future, it will support Sony Tablets.