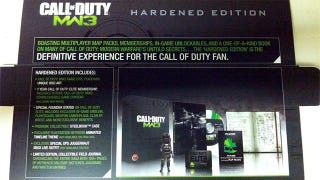 The "Hardened Edition" of Call of Duty: Modern Warfare 3 appears to have had its contents outed earlier than officially planned, contents that include a one year membership to Activision's Call of Duty Elite service and other virtual goods.
Wired reports that it received a photo of an advertisement for Modern Warfare 3's "Hardened Edition" from an anonymous source. That ad promises a long list of bonuses for those who are comfortable spending more than the standard $60 USD asking price.
The "Hardened Edition" will reportedly include the aforementioned Elite membership—which includes "future Call of Duty: MW3 downloadable game content," like map packs—and "Special Founder Status" for Elite, granting "Hardened" owners exclusive emblems, camo and "more exclusive benefits."
In terms of physical goods, expect a Steelbook case, special game disc art and a "collectible field journal" 100 pages long.
Attendees of this week's Call of Duty XP convention will be getting a free copy of the "Hardened Edition."