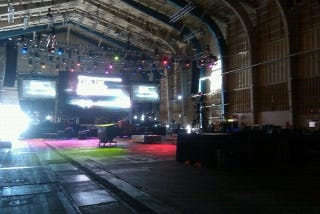 It's not a good look. But it is a look. From Sept. 2 to Sept. 3, one of the world's most famous games, Call of Duty, is holding its own convention, Call of Duty XP.
In the photos, there are Xbox 360 consoles and monitors. And there are large displays and lights.
Tickets are $150 a pop with all proceeds going to the non-profit C.O.D.E. charity that helps folks leaving the military find jobs. Tickets include a copy of Modern Warfare 3 (probably a paid voucher), the world's first hands-on with MW3 multiplayer, live-action MW recreations, and Kayne West. No, you cannot take Kayne West home. Well, I don't think you can.