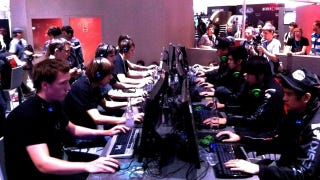 Gabe Newell has a problem.
The outspoken co-founder of Valve can't seem to get enough of one of his company's upcoming games. He's so into Dota 2 that he temporarily moved his office to be closer to the team making it. In a recent interview with Kotaku he said that he's logged some serious, serious hours playing the action strategy game.
The number he tells me when were chatting seems so unbelievable that after repeating it to him during the interview, I check back with the company a week later to make sure it wasn't a misremembered, misheard figment of my imagination.
It wasn't, a Valve spokesman assures me.
"I've played about 800 hours myself," Newell told me. "I call it 'play testing.' Erik (Johnson) calls it playing it badly."
Newell is sitting in a chair in the makeshift backroom of a towering booth dedicated to Dota 2 at Gamescom in Cologne, Germany. The game he can't stop playing is just feet outside the door, host to a million dollar tournament.